Welcome to Page 38 of my ďforum.Ē The subject matter here is anything to do with literature, books, reading, and writing, with a little philosophy thrown in, as well as other tangents and revelations that spring naturally from ďintelligentĒ conversation. To participate, send an e-mail. Thatís all there is to it. When I receive your message, I will add it to the bottom of the newest page ó unless, of course, it is rude or crude, in which case I retain the right to not post your message. The same goes for blatant advertising. Pertinent recommendations of reading material and related websites, though, are welcome within the natural context of our conversation. We all have plenty to gain from each otherís knowledge and experience. So, whether you are just reading or actively participating, enjoy your visit. I will post new messages as soon as possible after they are received. Be sure to check in often for the latest responses.

---
To add a message, click here, or on any of the ďJoin ConversationĒ links scattered along the right side of the page. Iíd rather you use your real name, but you can use a screen name if you prefer.
To return to Page 1 of the forum, click here. For Page 2, click here. For Page 3, click here.
For Page 4, click here. For Page 5, click here. For Page 6, click here. For Page 7, click here.
For Page 8, click here. For Page 9, click here. For Page 10, click here. For Page 11, click here.
For Page 12, click here. For Page 13, click here. For Page 14, click here. For Page 15, click here.
Page 16 Page 17 Page 18 Page 19 Page 20 Page 21 Page 22 Page 23 Page 24 Page 25
Page 26 Page 27 Page 28 Page 29 Page 30 Page 31 Page 32 Page 33 Page 34 Page 35
Page 36 Page 37 Page 39 Page 40 Page 41 Page 42 Page 43
To return to my December 2002 Barbaric Yawp interview with John Berbrich, click here.
To read our original 2001 interview, click here.
---
William Michaelian: Sit down, will you? Youíre making me nervous. And please stop cracking your spine. I get the message. Jeez ó a guy sits down for a few years and he gets all bent out of shape.
John Berbrich: Okay, okay. Iím thirsty & sore, all right? Here, drink one of these.
William Michaelian: Gladly. Ah, to bathe in these glorious bubbles....
John Berbrich: No, donít step in it. Youíre supposed to drink it.
William Michaelian: I am drinking it.... glurb....
John Berbrich: Well you donít have to drink all of it.
William Michaelian: Ahhhhhhhhhh. Did you say something? By the way, could you hand me that bar of soap? And that cigar while youíre at it. Right. Thanks. And that trumpet. Might as well hand me that camera, too. No, not the plumberís friend. Say, is it my imagination, or are you a bit disoriented?
John Berbrich: Well, I am a bit new to this here page 38. It always happens. When we switch pages, everythingís a little more than 3-D for a while, then a little less. But I adjust. Say, you must be hungry. Get that bar of soap out of your mouth.
William Michaelian: Hmm. No wonder it wonít light. My, my ó the moon is certainly a sliver this morning. Or is that a painting?
John Berbrich: Itís a crack in the wall. Now look...Why donít you get yourself cleaned up a bit, have something hot to eat & cold to drink. Then weíll get you dressed up in some fancy duds, some groovy threads. Put on a hat or something. Exercise a bit, just a bit, you understand. Then maybe youíll be ready to continue this literary discussion. Follow me?
William Michaelian: Well, Iím trying. It sounds like youíre advocating form over substance. But I gave my suit to Goodwill the other day. Hadnít worn it since attending a funeral in 1982. There ó I finally got this soap lit. And the cigar is simmering nicely in olive oil. What do you think ó should I add a little more basil?
John Berbrich: I prefer garlic but go on add whatever you like. What flavor is that bar of soap & the cigar? Hold on ó Iím not sure that trumpet will work underwater.
William Michaelian: You said I should get cleaned up. When itís full, you blow on it and Iíll take a quick shower.
John Berbrich: Me blow your trumpet? Youíve got brass.
William Michaelian: Ha! ó I donít know whose trumpet it is. But if youíre that concerned, Iíll blow the thing myself. Hey, you look like you could use a shower too. Hold still.
John Berbrich: The waterís not cold, is it? I hate cold showers.
William Michaelian: Wow ó wouldnít that make a great epitaph. Of course itís cold. But you have nothing to worry about. This is a trumpet, not a sousaphone. Weíll be done before you can say Dizzy Gillespie.
John Berbrich: How about Dizzy Dean?
William Michaelian: Hey, wouldnít that be great. Each time a pitcher is about to throw a pitch, as part of his windup, he gives a blast on his trumpet.
John Berbrich: Eh, whatís that? Youíre having a blast w/ a strumpet?
William Michaelian: No, no, no. Youíre not listening. I said Dizzy Dean liked tea with his
crumpets.
John Berbrich: I didnít know Dizzy Dean played the trumpet.
William Michaelian: Well, the fact is, thereís a lot we donít know about Dizzy Dean. But the good news is, while you were busy doing your fish imitation, I slipped out and bought three used books. You remember books, donít you?
John Berbrich: Vaguely. Look, you tell me about the three used books. Then Iíll tell you about the three used bands I saw last night.
William Michaelian: Fair enough. But maybe you could tell me about them in Spanish, because one of the books was a Spanish-English, English-Spanish dictionary published in 1940, and Iíd like to try it out. Or I suppose I could convert what you say into Spanish. Thereís an inscription just inside the front cover: Al: SeŮor P.H. Misfeldt / De: Joaquin Jaramillo / Rio grande Septembre 1951.
John Berbrich: Wow. Thatís pretty clear. Here are the bands: The Buckinghams; Gary Puckett; & Three Dog Night. Letís see: el Buckinghamos; Hary Pucketto; & Tres Carno Noche.
William Michaelian: Carno Noche, eh? Try perro instead of carno. But of course your pronunciation is impeccable. Really? Are all three of those groups still in circulation?
John Berbrich: Oh, I knew the word was perro but couldnít think of it. So substituted carno, a richly evocative word. Yeah, The Buckinghams just recorded a new CD. They played only one song from it, which sounded bland. They stuck w/ the oldies. Gary Puckettís voice is the same as ever. He sang all of his hits & even slung on a guitar for a few songs. He plays pretty well. Three Dog Night sang most of their old songs. Each act played impeccably well, w/ lots of energy & enthusiasm. The audience was, how do you say, past its peak, for the most part. I wouldnít have paid to see it, but we got free tickets from the magazine I write for, Fourth Coast Entertainment.
William Michaelian: Ah, yes, that Spanish-language publication youíve been working for. Itís amazing how many of those old groups are still out there, playing the fairs and casinos, in some cases with only a few or even just one of their original members, many looking more like insurance agents than musicians, but, such is life and commerce. Does the singer in Three Dog Night still have his mustache?
John Berbrich: If he does itís pretty thin. We went to see the Box Tops several years ago. We paid for that one, but it turned out it wasnít really the Box Tops. It was a Box Top cover band from, of all places, Brooklyn. That was sort of a rip-off. But the show the other night, those guys were genuine. And, as I said, they all played exceptionally well. One interesting thing....we saw the show down in Watertown, which is adjacent to Fort Drum. At one point, Gary Puckett asked how many people in the audience had served in the military. Well, hundreds of guys & a few women stood up. He had them come up to the foot of the stage, while the band played some mellow music, & he shook the hand of every one of them, saying ďThank youĒ to each. ďThank you, thank you.Ē The crowd clapped all the while. It was a nice moment.
William Michaelian: And perhaps not typical of someone big in the Sixties and the Vietnam era. We havenít been to a concert in ages ó decades, really. In fact, the last one might have been George Harrison in 1974. Which reminds me ó have you seen the Dick Cavettís interview with Harrison? Itís quite enjoyable. You can watch the whole thing in segments on YouTube, starting here.
John Berbrich: Thatís a long time ago. 1974. Thanks for the tip on the YouTube interview. When I get a chance Iíll check it out. But right now, I want you to tell me about those other two books you bought.
William Michaelian: Books? Oh, yes ó books. Well, one is old and one is not so old. Both are poetry. The old one, published in 1902, is called Ben Kingís Verse. The copy I have is from the eighth printing. The poetís full name is Benjamin Franklin King, Jr. He was born in 1857 and he died in 1894. Hereís the first poem in the book:


If I Should Die

If I should die to-night
And you should come to my cold corpse and say,
Weeping and heartsick oíer my lifeless clayó
If I should die to-night,
And you should come in deepest grief and woeó
And say: ďHereís that ten dollars that I owe,Ē
I might arise in my large white cravat
And say, ďWhatís that?Ē

If I should die to-night
And you should come to my cold corpse and kneel,
Clasping my bier to show the grief you feel,
I say, if I should die to-night
And you should come to me, and there and then
Just even hint íbout payiní me that ten,
I might arise the while,
But Iíd drop dead again.

John Berbrich: Are you sure you didnít write that? It has a bit of the Willie in it. Hey listen ó weíre going away for four days & three nights to New York City. Leaving early in the morning. Iíll return on Sunday night, which should give you ample time to read those new books & give me a full report. I like that Ben King guy, even if he turns out to be you.
William Michaelian: Thanks for the vote of confidence. Iím not sure which is worse ó you leaving without my permission, or you leaving without me, period. But I can handle talking to myself for three or four days. Lord knows Iíve gone on for longer periods than that. And speaking of full reports, Iíll be looking forward to yours.
John Berbrich: Iím ba-ack! How are the books coming?
William Michaelian: I didnít even pick them up. In your absence I lost heart; became despondent; decided to launch an Authorís Press Series. So how was your trip?
John Berbrich: I like your Authorís Press Series & the idea of gathering your work into book form. Anyway, the trip was a lot of fun. We spent most of our time down in Greenwich Village, & wandered down to Chinatown & SoHo. Took a 3-hour cruise on the Circle Line, a boat tour that circumnavigates Manhattan. Highly recommended. We stayed at a hotel in New Jersey. The first morning the police showed up ó someone had broken into a car, smashing both driverís side windows to get in. There was broken glass & rubbish all over the parking lot. New York looked good, busy & prosperous.
William Michaelian: Nothing like a little broken glass to start the day. Weíve been baking in the heat. Finally it cooled off into the nineties. We hit 107 two days in a row, and had a few more days above 100. Nasty. But the worst of it seems to have passed. We picked our first tomatoes while you were away. Paradise.
John Berbrich: 107! Wow! I donít think it's ever reached 100 in St. Lawrence County. Our high this summer has been maybe 85. Our tomatoes look lousy. Oh, I forgot to mention ó while in Manhattan we had lunch w/ poet & flash fiction writer Francine Witte & her boyfriend poet/comedian Mark Larsen. This was in a marvelous little bistro located on the corner of MacDougal Street & Bleecker Street, in the Village. Always a pleasure to meet fellow writers.
William Michaelian: That it is. In fact, on that same theme, it just so happens that I had coffee this morning with our old pal, Mr. Hinshaw. I had a couple of tomatoes Iíd meant to give him, but forgot and left home without them. I didnít mention it to him, because being a tomato fiend he would have made me go back. We were at a place downtown on Court Street called the Governorís Cup. Not a governor in sight. The girl who poured our coffee said I reminded her of ZZ Top. Hearing that, I figured I knew just how Jesus felt when he left Chicago. How is Francine? Keeping that pen of hers busy?
John Berbrich: Oh yes. She gave me a gratis copy of her latest poetry book, a nice-looking paperback called First Rain, published by Pecan Grove Press. Sheís doing quite well. And whatís Mr. Hinshaw up to? I havenít heard his name in a long time.
William Michaelian: He too is in the process of readying some things for publication. Hey, I just found a page about Francineís book at Pecan Grove Press. Here it is. Wonderful.
John Berbrich: Hey, thatís exactly what the book looks like. I remember that poem vividly. Quite a few of them deal w/ loss & that terrible moment of change that we all experience. I love that first stanza.
William Michaelian: Me too ó itís a nice little poem all on its own. I like this item in the requirements for the publisherís chapbook competition, which I see Francine won in 2008 for her book: ďThe poems should work together as if they were paintings in an exhibition.Ē
John Berbrich: That is a great way to put it, looking for those mysterious connections between the poems. Well, I can definitely see the poetical connections in First Rain. As I said, a lot of the poems deal w/ similar themes. Hereís another:


I Think of My Mother

when youth was her best
accessory, when sheís standing

on the dance floor, beautiful and alone.
She is waiting there

in black and white, the way
I have seen her in photographs.

Right about now, my father
comes in, nervous

and white-faced as the moon.
Of course, he, too, is posed,

his better side
pushed forward in my mind.

Only this time, there is something
I havenít seen before;

maybe itís the August heat
that is making him sweat,

or the curve
of my motherís right hip

as she stands there, swaying
in place. He is wearing

the look of a man
whoís convinced

he may never think straight again.
Dumbstruck, until

the music thuds him on the back
like an older brother,

when he takes that first
step towards her

and I am about to begin.

William Michaelian: Ahhh. Refreshing. That has to be one of the best poems in the collection. I love the ending, and those last few lines.
John Berbrich: Yeah, those final few lines really do it, tell you what the whole first part of the poem is about. Itís a beautiful scene. Really, the entire collection is sweet & sad simultaneously, like all those little Japanese poems w/ the wind blowing & the sun sinking. And the world is lovely and melancholy.
William Michaelian: Well, would you settle for Korean? Here are a couple of poems I found in another of those used books I mentioned, Quarterly Review of Literature 50th Anniversary Anthology. The poet is SŰ ChŰngju, and the translator is David R. McCann. I also featured them in a blog entry.


Azalea and Gull

Azaleas, azaleas on the hill
longing for the distant sea
mimicking the gullís voice
call through the hills;

and gulls, the gulls on the sea
with the voice of azaleas
call across the sea
to the distant hills all around.


Black-haired Girl

The black-haired girl in the dark of night
walks the night road all alone.
The night tells how very glad it is,
and the stars say they are not lonely.

Yi Tíaebaek, after writing a poem
in jet ink, went and found a ghost.
ďBetter than mine,Ē it said in admiration.
ďNicer composition,Ē is what it said in praise.

The black-haired girl has gone in marriage,
and the gourd flowers smile on the roof.
Beyond the hedge, the stream composes itself,
and the breathing of the skies grows calm.

John Berbrich: ďBetter than mine,Ē I say in admiration. You can really climb into those poems, particularly that second one. Do you know approximately when these poems were written, I mean what year?
William Michaelian: Well, theyíre in the first section of the book, listed under ďNew poems by QRLís Poetry Book Winners.Ē The book was published in 1993. The poet died in 2000. So that narrows it down a little, anyway. Hereís a short biography.
John Berbrich: Kind of sick to consider that this guy is Koreaís greatest poet & Iíve never heard of him. I have this big hardback published in 1978 called Poetry of Asia. Examples of the work of a dozen Korean poets are included, but I donít see So Chong-ju among them. Three 20th century poets can be found, however: Pak Tu-jin (1916-); Pak Mogwol (1916-78); Shin Kyong-nim (1936-). Hereís one from Prince Inpíyong (1622-58):

Donít mock a pine
Twisted and bent by the winds.
Flowers in the spring wind,
Can they keep their brilliance?
When the wind blows and snow whirls,
Youíll call for me.

William Michaelian: Well, now, you see, thatís what Iíve been telling people for years. Which probably explains the strange looks Iíve been getting. Anthologies. Theyíre good on one hand, but on the other, theyíre subject to editorsí whims, politics, and who knows what else. Are the other Korean poems also short?
John Berbrich: Yeah. Most of the poems run between six & 15 lines. The majority of the modern ones are slightly longer. The oldest poems date back to the 8th century, written by a fellow named Master Wolmyong & another named Master Chíungdam. Lots of nature in them ó moons & wind & stuff.
William Michaelian: I think thatís all they had back then. That, and then as the centuries passed, the girls and ghosts came in. Twisted girls, bent by the ghostly winds.
John Berbrich: Yeah, & then frogs & birds popped up, croaking & singing.
William Michaelian: In fact until they got things straightened out, the frogs sang and the birds croaked.
John Berbrich: I think we have some of those out back. I mean, the frogs sing in the evening & the herons down by the river croak when they fly off. So itís like living in an old poem, in a way. We have wind too, & moons.
William Michaelian: Sounds like if you step outside, you run the risk of turning into a poetís penstroke on a timeless piece of paper.
John Berbrich: Ah, Willie....you certainly can turn a phrase. However, the danger these days is digital.
William Michaelian: A poetís keystroke on a timeless default-formatted document?
John Berbrich: Iím afraid so. Though it doesnít seem to have the same poetic impact. Although some day computers too will be obsolete, w/ everyone getting all nostalgic about hard-drives, e-mail, & their old mouse. Whatís next? Who knows? But I expect there will always be someone around to write about it, whatever happens.
William Michaelian: And if there isnít, there will be someone to write about that. So, what are your thoughts and predictions regarding the future of the printed book? Some say books will go by the wayside and be replaced by electronic forms.
John Berbrich: Printed books will be around for a long time, unless big money decides to bury them forcibly. The kindle sounds pretty good, but I guess it has problems of its own. From what I understand, you canít lend your kindle book to anyone, unless you lend your kindle itself. You canít print its pages. You canít resell it. A kindle download ainít a whole lot cheaper than a conventional paper book, like maybe 10% - 15% less. Plus the books can be, & have been, recalled at any time. Your book is gone. A regular paper book is so simple, quiet, & beautiful....that itís got to make someone somewhere mad w/ rage.
William Michaelian: Well, you obviously know more about this kindle business than I do. I had no idea a kindle book could be recalled. I confess, Kindle is something Iíve never even cared to investigate. It seems to me that the sheer convenience, practicality, and durability of paper books will ensure their survival. And theyíve been around so long, theyíre in peopleís blood. Even for those who have no special love for books, theyíre still a basic fact of life. I was looking at my great-grandfatherís bible the other day. Published in 1875, a thing of beauty containing births and deaths recorded in his own hand, itís literally in as good a shape as it was when it was given to him when he was a young man in Illinois. Books arenít throw-away contraptions. Theyíre objects that gain importance and spirit through handling. And they donít need batteries or electricity.
John Berbrich: Right. Back in 1998, when we had that big January ice storm & lost power for 15 days, we lit candles & oil lamps & read books. The kids were going crazy without their electronic gizmos & gadgets. We have a wood stove & plenty of wood, plus plenty of surplus food. Nancy & I read & played cards w/ the kids. It was a beautiful, quiet, 2-week vacation from the noise & clamor of the world.
William Michaelian: A good experience. I hope they remember it. Fifteen days is a pretty good stretch. Long enough to get past the shock and settle in and enjoy it. Although being prepared helps. Lucky you have that cellar full of beans.
John Berbrich: To tell you the truth, I was a little sick of beans towards the end. We have enough beans to last at least one year, if anything happened. Thereís something funny about that word, ďbeans.Ē See, you smiled.
William Michaelian: Well, itís not the smile of reason, I can tell you that. The word ďbeansĒ evokes the same response in our house. No one in the family is able to say it with a straight face. Iíve been meaning to ask ó are you the bean distributor for the entire county?
John Berbrich: Not only beans. When 9/11 happened, Nancy ordered I think it was ten 50-pound sacks of wheat. Seemed like a pretty good idea at the time. We had no idea what would happen next, & we are rather close to Fort Drum. So if the highways were closed or something, we could feed ourselves for quite a long time. We have as much food as a lot of the country stores up here. Plus now the gardens are producing like crazy. If you guys need any green beans or cucumbers, swing on by & Iíll give you a box of each, fresh.
William Michaelian: Iíll tell you what. Nothing would make me happier than a box of cucumbers. And we love fresh green beans. Man, think of the loaf of bread you could have made with a quarter-ton of flour. It would have been a real target. Of course you would have needed a big oven. You could have built it in the ground ó a sort of underground brick igloo. And think of the yeast!
John Berbrich: Itís making me dizzy. Oh, weíve harvested a small amount of honey from our sweet little bees. Itís tasty stuff. My son tells me that it tastes like flowers. Here, let me spread some on that cuke.
William Michaelian: Ah, yes. Thereís nothing like local honey. And this is as local as it gets ó no phony blends, no homogenization. Just pure flavor and scent. Mmm. Iíve never had honey on a cucumber before. Looks like Iíve been missing out.
John Berbrich: I stirred a teaspoon of honey into my grits this morning. Delicious!
William Michaelian: Yep ó true grits. Thatís another thing about eating local honey. Those flowers are already a part of you. Youíve been inhaling them, even dreaming them in your sleep. Really, thereís no end to what you can do with that honey. I remember years ago when the kids were small, Dollface would mix ripe strawberries, our homemade yogurt, and honey in a blender, and then pour the stuff into ice cube trays and plant popsicle sticks in each section. What a treat that was.
John Berbrich: Jeez, youíre making me hungry again. Sounds like quite a treat. We grow blueberries & raspberries, as well as strawberries. Nancy hasnít made yogurt in a while. And my popsicle stick collection seems to have disappeared. But w/ this hot weather ó up in the 80ís ó I could go for a cool homemade snack.
William Michaelian: You might have to settle for honey in your beer. Our sonís house is in the south part of town where itís kind of hilly. He has three blueberry bushes. This year one variety was especially loaded with huge berries, but when he came home from work one day he found a deer standing there calmly devouring them.
John Berbrich: Rotten things. We havenít had any deer in our garden for a couple years. Although this summer a woodchuck was growing fat on our greens. Fortunately, a kindly neighbor shot it out his window w/ a Deer Rifle, one loud blast. I disposed of the carcass discretely.
William Michaelian: Of course. But thatís all a guy needs, a brazen woodchuck in the spinach patch. Isnít it something, though, how time stops, however briefly, immediately after a gun has been fired? I remember that sound on the farm ó one echoing blast, and what the mind and body try to make of it, even when the source is known.
John Berbrich: You are so right. Reminds me of a poem by Michael Kriesel we published in his chapbook, Matter Ballet.


American Haiku

Bullfrogs
stop
to ponder
that last
cherry bomb

William Michaelian: Thatís it. Excellent. And thatís one of his longer poems. He kind of goes out on a limb with the words ďstopĒ and ďtoĒ ó in fact, heís well on his way to a novel.
John Berbrich: You are right. Those two words are a bit unnecessary. Actually Krieselís been getting into longer poetic forms the past few years, each poem running close to a page in length. He really had that haiku thing down, reworked into an American style, I guess you could say. Whatever you call it or however you classify it, itís all excellent poetry. Hereís another from Matter Ballet:


Cabbage Moths

Walking
past the garden

startled
by confetti

rising
up

William Michaelian: Another good one. As I recall, Mr. Kriesel has penned a number of intriguing abecedariums ó or I suppose abecedaria would be the correct plural form. I wonder ó has he ever made the pilgrimage to Russell?
John Berbrich: Yeah. It was about five years ago. Mike hitched a ride w/ his brother who is a truck driver all the way from Wisconsin to Binghamton, New York. From there he took a bus up. He stayed w/ us for like four days. We had a really good time, sitting around the woodstove, driving around the countryside. Heís a smart guy, & funny.
William Michaelian: Iím glad to hear heís made it out there. Thatís a trip Iíd love to make again someday. Itís been a long time since our original interview, when I cleaned out your refrigerator. So long, in fact, it seems almost like a dream.
John Berbrich: I know what you mean. We were so young & crazy back then. Especially you, w/ that nutty hat. And you were so excited that your beard was finally coming in.
William Michaelian: And you, shoveling beans into your cellar between questions, with that wild look in your eye. I still remember that caravan of dump trucks on the highway leading in, and how you knew each driverís name. Never before have I met so many guys named ďBud.Ē
John Berbrich: And none of them had ever met anyone w/ the last name of ďMichaelian.Ē Those were great days. The halcyon days of yore, you could say.
William Michaelian: Well, the next time Iím there there, weíll get into some real trouble. Tell me ó how many Yawp contributors have made the trek over the years?
John Berbrich: Not many. There was Kriesel, Nancy Henry, & Robin Merrill twice. Of course that doesnít include St. Lawrence County writers & students. But they donít count in a list of trekkers. Seems like maybe Iím forgetting someone. Oh, Thaddeus Rutkowski, but he didnít come up here to see us. But he did see us, twice.
William Michaelian: Come to think of it, you guys are a bit off the beaten path. Maybe youíd have more visitors if you stated in your guidelines that preference will be given to writers who personally deliver their manuscripts.
John Berbrich: Weíll bring that up at the next Board meeting. Iím amazed when anyone travels up here. Itís really far from anything & everything. People think ďOh, itís New York,Ē like weíre right outside the City. Well, itís a 7-hour drive to Manhattan, pretty much all highway. Some mighty desolate areas.
William Michaelian: Empty, except for the occasional porcupine herd. Whatís the altitude where you live?
John Berbrich: Six-hundred feet. Weíre right on the edge of the Adirondack Park, where the so-called mountains lurch up to just over 5,300 feet. So compared w/ mountains elsewhere, they are merely knobby hills. The entire region is heavily wooded, w/ lots of lakes, ponds, & rivers. You can drive for miles without seeing a house or another car. Iíve seen a couple of porcupines lately. They are in no hurry to cross a road.
William Michaelian: Youíd think theyíd teach that in porcupine school. Or maybe they teach just the opposite. After all, to show fear would be spineless.
John Berbrich: And porcupines do not lack spines. Whatís your altitude?
William Michaelian: About 150 feet. There are some hills in West Salem as high as 1,000. Sometimes when it snows, the hills get it but we donít. Then of course thereís the Coast Range to the west, and the Cascades to the east, which are studded with volcanoes. And the Willamette River cuts through town, flowing south to north on its way to the mighty Columbia.
John Berbrich: I can see it all like a vast sweeping topographical map. You donít ski, do you?
William Michaelian: Nope. Thereís no need. I hit bottom years ago. Do you?
John Berbrich: No way. I went cross country skiing once, years ago. It just made me tired. But downhill? Forget it. Iím not into that thrill stuff. How about bungee jumping?
William Michaelian: Never. But our son and one of his friends jumped out of an airplane last year. And their parachutes opened. How about freight hopping?
John Berbrich: Nope, sorry. How about just regular hitchhiking?
William Michaelian: That Iíve done, but not extensively like you. A friend and I hitched a few rides around Vancouver, and my brother and I found it a convenient form of transportation years ago in Yerevan. Again, nothing compared to your gambols about the country.
John Berbrich: When my car breaks down I find that the old thumb still works. Hitchhiking is a great way to meet unexpected people. Hey, did you get to trade your clunker in for cash?
William Michaelian: Ha! Well, I certainly own one that qualifies. Still runs, too, though the transmission is on the way out. But weíre an emotional bunch; I figure weíll let it die a slow peaceful death out behind the barn. Of course weíll need a barn. Say, what about yours?
John Berbrich: Well, Iím driving a í96 Grand Am. I donít know if it qualifies for the program. I really love the car, itís running great, & I hate paperwork. So I passed. By the way, thereíre plenty of old gray barns around here, any one of which would look great w/ your car parked behind it. You can hitch one to your trailer when you swing by for those cukes.
William Michaelian: The idea is sound. I suppose a suitable trailer can be found in one of those barns. But will the van make it that far, and then all the way back ó thatís the question. Or I could leave the van behind one of the barns, eat the cukes, and then hitchhike back. Barns for clunkers ó that might not get the economy going, but it will still be good for the environment.
John Berbrich: I always figured you to be Green, Willie. Hey, thatís a great nickname for someone, Green Willie. And opening tonight for Slide Bone Willie...itís Green Willie. Letís have a nice round of applause....
William Michaelian: Yeah, except Green Willie got his name because heís permanently green from drinking bad hooch. Hey ó how about Yawp Bone Willie? The new Yawp arrived yesterday. I can hardly wait to dig in.
John Berbrich: That or Green Bone Willie. The name Willie seems to go w/ everything. How about Slide Yawp Johnny? Lemme know what you think of the Yawp.
William Michaelian: I will. In the meantime, Iíve posted a blog entry heralding its arrival.
John Berbrich: Thanks, Willie. Hope you enjoy the contents. I love Nancyís cover. That guy on the cover w/ the coffee mug is priceless.
William Michaelian: And what a contrast to the lamenting Yawp Man on the back. Wait. Hereís a poem I found that Iím absolutely crazy about. Kate Duvallís delightful seventeen-syllable ďFuneral SceneĒ:

Lying in the box,
I blink, and eighty mourners
Shriek in black lace gowns....

John Berbrich: Ah yes ó that one was in the marvelous death theme section. What an image! Funny thing ó just yesterday I received a letter from Kate that cited your ďRuinsĒ poem as one of her favorites. You two are on the same wavelength.
William Michaelian: Hey, thatís good to hear. Well, then, for the record, Iíd better reproduce my poem here:

Dragonfly
prehistoric blue

these ants have made
of you a church

without
a bell.

Really, there are a number of delightful poems in this issue. Lacey Bardís ďWant to be Me,Ē a couple of pages before Kateís poem, makes me wonder if sheís been reading Spoon River Anthology. Ah, Death!
John Berbrich: I know, waxing eloquent about termination. What fools these poets be! I like Laceyís other poem too, the one about the falling leaves. Each leaf falls in its own way, & I can see them all the way she describes.
William Michaelian: Beautiful. And deeply stirring in its simplicity. Say, how is your new poetic forms issue shaping up? Or is it still too soon to know?
John Berbrich: Right now I have like six new forms, all from different poets. Some of them are pretty darn fun to play with. This is scheduled for the October issue, so Iíve got to start work on my article fairly soon so anyone interested in submitting examples of a form theyíve invented had better do it soon!
William Michaelian: Nothing like a little time pressure to get the juices flowing. Have you invented a form yourself? You certainly must have one or two tucked into your flowing editorial robes.
John Berbrich: Well, yeah. Thereís the Triok, from the April Yawp. You got a copy, right?
William Michaelian: I did. Wait. Let me get it. Ah, yes ó the Triok. How could I have forgotten? ó except that everything leading up to our big move is a blur. Of course. Of course. This is brilliant. At least three lines, no more than eight. At least one reference to a color. At least one place name. Title at the end. And the form itself, rooted in a fascinating history. And your ďmodern examplesĒ of the form are excellent.

That sign you always hated
Town of Pierrepont
Town Line
Is still there
On this black night

Long after youíve gone.


Driving on 24

John Berbrich: Thatís it! Two intrepid subscribers have sent me trioks, which Iíll of course include in the October issue. Probably have room for a Crowku or two. We have scrims & denneds, as well as a few other fascinating forms.
William Michaelian: Scrims and denneds ó the names alone are inspiring. They sound almost like life-forms, as noted by Spock on ďStar Trek.Ē ďPuzzling, Captain. They would appear to be scrims and denneds.Ē
John Berbrich: Fascinating. We also have twinsets & hornettes.
William Michaelian: ďTwinsets? Spock! Do you realize what this means?Ē ďYes, Jim. Parallel universes.Ē
John Berbrich: Weíve also got a goody called a Platoon. Howís that for cosmic militarism, Bones?
William Michaelian: ďDamn it, Jim ó Iím a doctor, not a poet.Ē
John Berbrich: Sorry, but I donít think we have any new poetic forms named after body parts, internal organs & the like. How about a form called the Intestine?: itís a really long poem w/ a crummy ending.
William Michaelian: Well, that form has been around for ages, but Iím glad youíve finally given it a name. Is the issue going to be all poetry? Or will you have some stories about people sitting around desperately trying to come up with new poetic forms, tragically slipping into unreason, and becoming strangers to the ones they love?
John Berbrich: I hadnít planned anything like that but if you want to write a brief drama describing those heartaches, please feel free. And no, the issue wonít be all poetry. The article I write on the forms will be incorporated into my usual introduction, only instead of two pages itíll run six or eight. Or seven, whatever. A little prose fiction would actually be a cool capper, if you know what I mean.
William Michaelian: Iím afraid I do. Thatís what bothers me. Hmm. A dramatic interlude.... I might have to pursue this. How long until you go to press? One hour? Two?
John Berbrich: Pshaw! You have at least three. But for you, Iíll give you two weeks. Of course weíre talking about something short here, not some endless long-winded three-page epic. A page or two would be fine. Space is at a premium, of course. Iím sure youíll rise to the challenge.
William Michaelian: So, you want the condensed version, eh? Of course all that extra time makes the job harder, not easier. It means I have to find something else to do for the next two weeks, and then, when thereís two hours left, go to work.
John Berbrich: Whatever works for thee, my friend. Of course, you could always pretend that you had only two hours to write it. I mean, con-vince yourself, dude. Be persuasive. Pull out those long-buried skills of rhetoric, & put them to good use. Out w/ your lymphatic Sunday mode! Smooth-talk yourself. Put some effort into it.
William Michaelian: Okay, youíve convinced me. Iíll start with a long series of letters to myself, and will answer each in turn. When I lose track of whoís who, then Iíll tackle the actual piece. A fairly basic two-hour drill, all in all.
John Berbrich: Thatís the old Willie talking. Use that marvelous imagination. No sleeping until youíre done.
William Michaelian: Thanks for the encouragement. Youíve always been so good to me. I know Iíve let myself go these past few years. And now here you are, giving me a chance to make a big comeback. Iíll try not to let you down.
John Berbrich: Well, Iím glad that you recognize & appreciate this opportunity. Right now Iíd better give you a few moments to get started on this project. You know, this could really turn your writing career around.
William Michaelian: At this point Iíd settle for any kind of forward motion. But youíre right ó Iíve been on a downhill slide for so long, if I donít do something now, it could be all over. But of course that too is something to write about ó after I complete this poetic drama in no acts.
John Berbrich: Youíre not going to get all John Cage on me, are you? We need characters, a plot, a conflict, rising action, a startling climax, & a satisfying resolution. We require social, political, & philosophical consequences. We need answers, darn it! Thatís the thing w/ all you young writers ó youíre just so, so, young.
William Michaelian: Aw, you old guys are all the same. Set in your ways. If you had any imagination, youíd supply all of that yourselves, instead of relying on someone else. My job is to create, not to explain. Now, do you want the stage in your living room, or in your basement? The lumberís going to arrive any minute.
John Berbrich: How about maybe halfway up that tree behind your house. Better conversations w/ the birds from there.
William Michaelian: Sorry. Canít do that. I donít have a twitter account. Never mind. I can take a hint. Iíll set it up in our house. Dollface will love it. Oh ó by the way, Greg Schwartz mentioned the Yawp here, in his blog.
John Berbrich: Hey, thanks for the link. Thatís a nice blog that Greg has. Includes some worthwhile information & is easy on the eyes w/ all that black. Heís really getting quite good at shorter forms of poetry. And heís able to work in humor without making the poems silly. I always enjoy his submissions.
William Michaelian: A drop of humor goes a long way. With a blog name like Haiku & Horror, youíve got to have a black background. But itís amazing how many adjustments you can make to these templates. You can change the background, the text color, the link color, the visited link color, and so on.
John Berbrich: I never fiddle w/ any of that technical stuff. Too often I hit the wrong key & end up in a totally foreign land somewhere & canít get back. Then I have to holler for help, which I donít care to do. So I let Nancy make any adjustments of that nature. Sheís reliable & seems to understand machines.
William Michaelian: Better watch it. She might change your background and text color. Thatís one of my nightmares ó visiting my face in the mirror only to find itís been redesigned, and having to click on links just to remember my name. Or worse, thereís just the image and no links ó just one of those ďenter hereĒ buttons. But if I canít click it, then what? Who has a keyboard in the bathroom?
John Berbrich: Youíd better carry a laptop at all times. Donít want the little lady de-linking you. Actually I think you might be suffering from one of your periodic spells, those troublesome psychological times when it all looks bleakest just before the dawn, or whatever. Take a deep breath, thereís a fine fellow...
William Michaelian: Or even worse ó I click on a link, but instead of it leading to information about me, or maybe an earlier more user-friendly version, it goes to a ďnot foundĒ page. Then, when I hit the ďbackĒ arrow, my face is replaced with some kind of ad. Then, desperate, I go outside and look for links in the flowerbeds, in the mailbox, in the neighborís garbage can.
John Berbrich: Wait, wait, wait, Willie. Take that deep breath. There. Now why, why, would you look for a link in your flowerbed, or your mailbox, or in your neighborís garbage can? Itís obviously in your neighborís house.
William Michaelian: Well, apparently you have the key, because the neighborís not at home. But okay, have it your way. I break in, and the same thing happens with every mirror in his house. And so I rifle through his junk drawer, looking for links. I eat my way through his refrigerator ó no links. Not even any bacon. You remember when I went through your refrigerator, donít you? Well, thatís what I was really doing. Looking for links.
John Berbrich: Ah, sausages sometimes come in links. And cuffs of shirts, very often, have a link or two about them. Donít give up, lad. I shanít forget the refrigerator fiasco, but I shall forgive. Some obsessions are overwhelming. And we are but mere mortals.
William Michaelian: What a great epitaph ó ďNot Found.Ē Someday Iíd like to make a collection of epitaphs. In a blog comment I read yesterday, a guy said heíd been collecting dead blogs. Or maybe it was just the names he was collecting. Who knows ó maybe he thinks heís the Grim Blogger.
John Berbrich: When we were kids we could always get a laugh w/ this epitaph:

Here Lies Lester Moore
No Less
No More

Especially when drinking beer.
William Michaelian: That is a good one. The way I heard it, from none other than the great Mr. Hinshaw, is, Here lies Lester Moore, shot in the head with a .44, no Les, no more. Hereís another version, perhaps the original, backed up by a real live photograph.
John Berbrich: Pretty much the same epitaph, more or less. Thereís no disputing the great Hinshaw, photograph or no. Say, howís the prose on the new poetical forms coming?
William Michaelian: Slower than I thought. For a subject of this magnitude, I decided I should invent a new form of prose. Oh, why do I always complicate things?
John Berbrich: You need professional help, for sure. Ah well, nothing is ever simple. You do what you think is right & donít let anyone stand in your way. Follow your star, Willie.
William Michaelian: Itíll probably turn out to be an asteroid. But now Iím curious about something ó you say I need ďprofessional help.Ē What, exactly, would that consist of? A team of crossword puzzle editors? A wacky pyschiatrist who wears several pairs of glasses at the same time and follows me around the grocery store analyzing me in public? Come to think of it, I wrote a story like that once. I found the typescript when we were moving, now itís lost again. Like my mind.
John Berbrich: Maybe you need unprofessional help. Ask a little kid what you should do. Youíd get an honest answer from a six-year-old. Plus a child would understand the gravity of the situation, whereas a psychiatrist or analyst would not.
William Michaelian: What fantastic advice! You know, I canít count the times that Iíve been smiled at by little kids and ignored by their parents. Kids, crazy people, and the elderly are the most likely to strike up a conversation. What do you think that means?
John Berbrich: It means that kids, crazy people, & the elderly are the only ones not entirely caught up w/ themselves & their own anxieties. They transcend the ego. And you, Sir William, are able to relate to these three categories of humans, this wholly holy trinity.
William Michaelian: Well, they understand Iím not a threat, and Iím grateful for that. And youíre right about your wholly holy designation. Because, in truth, each of the categories also embodies the other two.
John Berbrich: Exactly. A trinity. Three in one. Or one in three, whatever. The point is, you share a special bond w/ each of them. At one point you were a child. And you are a crazy person. And some day....
William Michaelian: A nice thought, whether I make it that far or not. You know, itís funny, but Iíve never minded the idea of being old. In fact, itís always kind of appealed to me. Of course, there are plenty of people who think Iím old already. And yet I can remember when I was ten, and thinking that was the best age of all. I was delighted to be ten. It sounded and felt so good, especially in the summer, when all I had to do was roam around on the farm ó that is, when I wasnít working like a slave to pull our family through the Depression, chopping the heads off of chickens, milking the ostriches, and so on.
John Berbrich: Yeah, youíve had a rough time of it. You need to write an autobiography some time of those far-off days. Youíve seen so many changes in your long, long lifetime. I too have chopped the heads off chickens. But we never had ostriches.
William Michaelian: Well, when we saw how little milk they gave, we got rid of them. A chicken without its head really loses its personality, I think.
John Berbrich: Although it takes 30 seconds or so for the bird to realize it. I tell you this, Iíd rather chop the head off a chicken then off an ostrich.
William Michaelian: Having to climb a ladder doesnít help. Some of those ostriches can be pretty tall. And not all are susceptible to hypnotism.
John Berbrich: Is that what you used on the chickens?
William Michaelian: A ladder, no, hypnotism, yes. You draw a line on the ground, and then you grab a chicken, point it downward, touch its beak to the line, and then you let it go and it stays. Come back in an hour, it will still be hypnotized by that line.
John Berbrich: But where does the ladder come in?
William Michaelian: It doesnít, unless you have some really tall chickens.
John Berbrich: I see. So, you come back in an hour & the chicken is still hypnotized. Then what?
William Michaelian: Nothing ó yet. But when the chicken stays hypnotized long enough, it will flop over and die, thus making it easier to cut off its head. And so the thing I want you to imagine is a commercial chicken farm, with thousands of hypnotized chickens in neat rows.
John Berbrich: Okay, so your chicken is now thousands of chickens. And your thousands of chickens are sprawled out dead. Whatís next?
William Michaelian: Why, whatever you imagine, of course. Besides, what do you mean my chickens? This is your imagination weíre talking about.
John Berbrich: True, but itís your explanation.
William Michaelian: Yes, but it exists only because of your questions. And Iím pretty sure youíve imagined it as well.
John Berbrich: No. You imagined the chickens, not I. And the ostriches.
William Michaelian: The ostriches I wonít deny. But tell me ó have I been imagining that youíre imagining what Iím imagining? I mean, you did admit that we were talking about your imagination. Go ahead. Take a look. Itís in the transcript.
John Berbrich: Hold on. You were saying that you relate well to kids, the elderly, & crazy people. You're letting my imagination run away w/ you.
William Michaelian: Perhaps. But looking on the bright side, itís quite possible that we exist only in each otherís imaginations.
John Berbrich: Which suggests that weíre both characters in a witty yet dull cyber-drama. I suppose in that state you could live forever, or at least until the next upgrade.
William Michaelian: Frankly, Iím surprised weíve survived as many upgrades as we have. Say, yesterday when you werenít looking, I read something very interesting in your SLAP blog. Youíve started a dream book, and you and Nancy are going to be teaching a creative writing course.
John Berbrich: Oh, yeah. The dreambook. Usually I wake up w/ all these fluttering obstreperous images, which swiftly vanish. So far, thatís the only one Iíve captured. Tonight was the first night of the creative writing class. No one showed up.
William Michaelian: Wait a minute. That sounds a lot like that poem of yours, ďThe Zen Seminar.Ē Are you sure you werenít dreaming?
John Berbrich: If I was itíll show up in my dreambook, & that hasnít happened yet. Iíll keep checking. Yeah, but itís true, no one showed up. It was raining so maybe they thought theyíd crystallize or something. But tonightís a big SLAP reading at the Asian place. I gotta find some good new poems.
William Michaelian: Iím sure that wonít be difficult. Say, wouldnít it be great if a dreambook was something you kept by your bed at night, and in the morning you looked in it to see what you dreamed, the dreams having been written by an invisible hand? Or you open it and the pages become life-sized three dimensional representations of your dreams. And if there was a ritual for giving a child his or her first dreambook.
John Berbrich: Wow! Willie, youíve got to write that story, or poem, or drama, whatever. We need more rituals in life, special solemn moments when someone takes a step to a new, deeper level of experience. And what can be more significant than dreams? As Emerson said, ďIn dreams we are true poets.Ē
William Michaelian: It truly is an inexhaustible realm. And I love the way unlikely things are layered and spliced together to profound effect, as they so often are in poems. And not just poems.
John Berbrich: Yeah. Last night I dreamed I was in Florida. The weather was warm. I was outdoors, reading manuscripts for the Yawp. The papers were slipping away all over the place. This guy came up to me ó he turned out to be a Yawp author, I forget his name, & he helped pick up some papers, (& postage stamps!) that had dropped to the ground. Later on some big guy took a swing at me but I was ready for him. Is there a message in there? ó Iíd better get reading...
William Michaelian: The Yawp bouncer, after years of faithful service, finally ventures to submit a manuscript. You reject him, and he turns against you....
John Berbrich: Wasnít that the plot of a TV mini-series a few years back? Hard to keep track of it all sometimes. So much information going in, in, in. Every second, more than I can keep track of. I guess thatís part of the function of dreams, to allow our beleaguered minds to roam free, like poets or butterflies in a field of blooming flowers. But in reality the dreams just give me more to think about. And in all honesty, the bouncerís poems werenít really all that good.
William Michaelian: The guy thought he was a writer, but he was just dreaming. Whatís intriguing is that thereís no sure way to know whether youíre dreaming or awake ó or dead or alive, for that matter. Or whether our entire experience ó and we might have talked about this before ó isnít part of someone elseís dream.
John Berbrich: Yeah, I think we have discussed it. That dream thought is what adds zest to life, gives it tragedy but also humor ó cuz life all could be some kind of cosmic joke. And Iím not anxious to reach the punch line.
William Michaelian: Unless life is the punchline. In which case, there are sure a lot of people without a sense of humor.
John Berbrich: Iíll go along w/ that, but whoís the comic who writes this stuff?
William Michaelian: Oh, probably some out-of-work god trying to make a big comeback.
John Berbrich: Itís possible weíll reach the climax real soon.
William Michaelian: Yes, but will we get it? I hate it when I donít get jokes. I suppose I could just start laughing periodically, say every minute or so, to give the impression that I get it.
John Berbrich: Well, all you need to do is to laugh when everybody else does. That sounds easy enough.
William Michaelian: I donít know. Is that what you plan to do? I think it might be easier to pretend weíre trees. Or barrels, maybe. A couple of beer barrels, just sitting there, watching everyone make fools of themselves. Of course, for it to work, weíll have to believe we really are barrels.
John Berbrich: I could get into that, I think. Yeah, I could really get into that. Just inhale & youíve got the suds, man. Totally absorbed w/ good, dark, BoneWorld Brew. Gods, yes, there is a heaven!
William Michaelian: Hey, if you donít like the idea, just say so. We could be whisky barrels just as well, or wine barrels, or even molasses barrels. Then again, if the brew is dark enough, it could also serve as molasses. Do you think anyone will notice us?
John Berbrich: Well, I dunno. I would certainly notice a couple of full, idle barrels of beer standing there, going to waste. Mustnít squander our resources.
William Michaelian: True. But do you mean idle barrels, as opposed to restless or active barrels?
John Berbrich: I mean idle as in not being used. I suppose that a neglected beer barrel could grow anxious. Oh, hereís a great idea for a great new reality TV show ó American Idle. It shows a bunch of people sitting around doing nothing.
William Michaelian: Not bad. I can see that catching on. How about ďWatch that BarrelĒ? Hmm. I wonder if thereís such a thing as an idol barrel.
John Berbrich: Well, Iíve known some people who have worshiped the bottle, to the point where they kneel down in ritual every morning.....yodeling down the porcelain canyon....
William Michaelian: Iíve known some too, as a matter of fact. But the ritual wasnít confined to the morning. Anyway, here is another short review of the July Yawp by Greg Schwartz.
John Berbrich: Iíve always said that Greg was a sharp fellow. Seriously, heís been submitting poems to the Yawp for years now, & gets one in every second or third issue. Heís really developed a concise, haiku-like style, w/ a liberal sprinkling of humor. I always smile when I receive an envelope w/ his name & address printed in the upper left-hand corner.
William Michaelian: Well, in that case, Iíll start sending you envelopes with his name and address printed in the upper left-hand corner. And Iíll get a few other people to do it too. Eventually, all of your mail will be from Greg Schwartz.
John Berbrich: If that happens, the Yawp will have no trouble maintaining its high standards.
William Michaelian: After all, youíve had a white issue. Itís time you had a Schwartz issue. Scenario: a guy starts receiving letters from people heís known who have died, written in their hand. After several such letters, heís afraid to look in his mailbox. Finally, when they keep coming, he calls the post office, tells them who he is and where he lives and what the problem is. And the clerk says, ďThatís odd. According to our records, you died three years ago. Someone else lives there now.Ē
John Berbrich: Youíre getting into that dream thing again. Obviously, your protagonist is dreaming that heís dead. Unfortunately, heís developed some sort of leak in his brain, & the dream is affecting the locals. But he doesnít know that heís dreaming, see, & no oneís around to wake him up. In fact, when he does wake up, heís going to have quite a pile of letters & bills to open. Heíll wish he was dreaming.
William Michaelian: I know that feeling. But in this guyís case, no oneís around to wake him up because theyíre all dead. In fact, everyone he dreams about actually dies in real life. The mailman, the clerk ó finished. Kaput. Or maybe not. Maybe they become part of a dead-dreaming epidemic. Pretty soon the whole town is asleep, dreaming the same dream ó except instead of letters from dead people, they receive them from Greg Schwartz.
John Berbrich: Meanwhile everyoneís mail is piling up. Great idea, Willie. And the post office clerk says, ďExcuse me sir; Iíll transfer you to the Dead Letters office.Ē In the sequel, all the dogs on the other side of town begin to bark simultaneously & wake everybody up. The back of the epidemic is broken.
William Michaelian: Ah, yes, the dogs. And when everyone wakes, they have a curious appetite for rabbits and squirrels, and the dogs swat them with rolled up newspapers when they track mud on the floor. Something strange indeed has transpired. Maybe itís a government experiment ó an attempt to make the postal service profitable gone awry.
John Berbrich: Gone awry, indeed. Itís easy to make the postal service profitable, just jack up the rates. It seems as though the government has gone to a lot of unnecessary trouble, enlisting dogs & even Greg Schwartz. Thatís Capitalism at work, Democracy too. Willie, we both need another beer. You buyiní?
William Michaelian: You betcha. How are you at drinking in your sleep?
John Berbrich: I can drink any time, pal. The secret is practice.
William Michaelian: Thatís the kind of talk I like. Well, in that case, hereís something you can use as a coaster.
John Berbrich: Interesting, you rogue. I might have to order one of those. Lemme see if I can find a ten-spot in this pocket....
William Michaelian: Well, now, you donít want to do anything rash. I mean, this could cut into your beer fund.
John Berbrich: Ah, but a coaster such as this is a marvelous enhancement to a flagon of stout.
William Michaelian: Best of all, itís rugged enough to withstand repeated use. Wear out the front, then just flip it over. On the back is that recent picture of me that my son took ó a mug for your mug, so to speak.
John Berbrich: Hey, Iím back.
William Michaelian: Iíll say this ó when you look in your pocket, you really look in your pocket. You were gone so long I thought maybe you went to South Carolina or something. Say, how did you get salt in your hair?
John Berbrich: Jumping in the ocean. Say...how did you know I went to South Carolina?
William Michaelian: Are you kidding? It was in all the papers. Besides, Iíve seen that look before. Every time you come back from there, youíve got that same wild glint in your eye. Then again, Iíve seen that look when you come back from the kitchen.
John Berbrich: Darn paparazzi. Canít even go in the kitchen without them tagging along. Ah, yes ó we saw dolphins, pelicans, jellyfish. Rode a few waves, dove into lots more. Soaked up photons. Ate filet mignon pizza. Drank beer & wine. No wonder Iíve got that glint.
William Michaelian: Well, donít worry, that heartburn should pass in a couple of weeks. Iíve never even seen a filet mignon pizza. What else is on it? A baked potato with sour cream chives?
John Berbrich: Pretty much the usual ingredients ó cheese, onion, tomatoes, peppers ó w/ juicy steak chunks added. It was absolutely delicious. Hereís a plug for the California Pizzeria, located in the Sand Dunes Hotel, Myrtle Beach, South Carolina. And they deliver till 2:00 a.m. Yum!
William Michaelian: Hooray! ó they must do that to get rid of all the leftover pizzas. The thin crust pizzas, they just slide under the doors of sleeping hotel guests, and the thick crust pizzas, they hide under cars. Did you look in the ice machine? There was probably one in there too.
John Berbrich: You can make fun all you want, but it was delicious. And get this ó the filet mignon was called a ďSan FranciscoĒ style pizza. I have no idea why, & didnít think to quiz the delivery guy. Guess I blew my big chance.
William Michaelian: You did. He probably would have sung ďI Left My Heart in San FranciscoĒ and sounded exactly like Tony Bennett. Oddly enough, thereís a little chain here in town called Straight from New York Pizza. In any case, I certainly wasnít making fun of your pizza experience. My scenario generator backfired, thatís all. Itís been running a little rough lately. Needs a tune-up, I guess.
John Berbrich: Grease the crank. Check the belts. And when was the last time you changed that filter? Actually Tony Bennett is a marvelous singer. The story is (this is true) that he used to visit a relative up here when he was a kid. Maybe 10 miles from my house. This is really a story, but I don't know if itís a true story. You get me?
William Michaelian: You seem agitated, friend. Sure, I get you. Tony Bennett is a marvelous relative, and he used to visit a singer not far from your house when you and he were kids in San Francisco. Then, to grease the crank, youíd go out and have a couple of unfiltered belts.
John Berbrich: Close. You need to crank down a few greasy belts, then belt down a crank, then grease Tony Bennett from one end of San Francisco to the other, after which you sing a song, & all things are relative. Einstein said that.
William Michaelian: Smart. He waits until all of the heavy lifting is done, then makes a clever pronouncement about it and gets his name in all the encylopedias. So, after cranking your greasy relatives, you filter the kids in San Francisco. Then when they get agitated, you belt them ten miles. I said that.
John Berbrich: I think the problem here is an East Coast-West Coast thing. I mean, no one in New York ever filtered their kids in San Francisco ó it just isnít done. Meanwhile, words such as grease & crank bring along certain ó shall we say ó connotations w/ them. A politician in New Jersey can grease palms all day, while his counterpart on the Pacific Coast reinvents the palmy days of Greece. See? Itís subtle differences like these that make for difficult communication.
William Michaelian: Fascinating. Would you consider serving on the Willipedia Board of Directors?
John Berbrich: Sure. How much does it pay & what do you guys do?
William Michaelian: Thatís why youíre needed on the Board. To help determine these things. To determine whether or not these things even need to be determined. To determine whether or not we even need a Board. Our first act might even be to dissolve the Board of Directors. The Willipedia, of course, having a life of its own, cannot be dissolved. Although it can dissolve us. Still interested?
John Berbrich: Sure. First, we need to dissolve the Board, provided I am given a large cash bonus for my integral part in the dissolvement.
William Michaelian: Fine. But first youíll have to explain why you think the Board should be iddsolved ó oops! I mean dissolved. Darned fingernails. I really should cut them.
John Berbrich: I just bite mine off. I canít see what the good of the Board is. I mean, if we were building something, like a shack or a bookcase, weíd need lots of Boards, nails too, & a hammer. But since weíre not doing anything, & itís all digital anyway, I mean cyber, I mean electronic ó you see what Iím getting at. However, you secure me some bail-out cash from the government, & Iíll give it another shot. I mean, a Board might come in handy someday.
William Michaelian: I certainly appreciate your generous, openminded attitude. By the way, I read that on yesterdayís date in 1969, Jack Kerouac collapsed in front of his television while eating tuna from a can and drinking whiskey. He died the next day.
John Berbrich: Wow. 40 years ago. By coincidence Iíve been reading his Mexico City Blues book of poems; he calls them Choruses. I donít really like when Kerouac drags in Buddhist saints, scripture, & concepts to make certain points, but some of the apparently spontaneous ďBopĒ poetry (as Ginsberg puts it) is really quite good. He plays w/ language in an almost Joycean fashion, w/ some startling results.
William Michaelian: Yep ó my son has that and I read it a few years ago. Quite enjoyable. Old Jack catches that language streetcar and rides it up and down the hills. Sometimes he winds up in the bay, or falls off on a turn and hobbles to the next stop, but even that is part of the overall ebb and flow.
John Berbrich: Yeah. The words donít exactly leap off the page, but they do things Iíd never seen before. And how will you know whatís possible unless you push the boundaries a little bit. Iím all for this experimental stuff, but letís not applaud all of it as a success, & letís not denigrate older, traditional writers. As Pound said of Whitman: ďHe broke the new wood; now itís time for a carving.Ē Iím quoting from memory, but itís close enough.
William Michaelian: ďWhitman chopped wood. Time to stack it in the shed.Ē No, thatís not it. All in all, Kerouacís writing is pretty uneven. When heís on heís on. When heís off heís almost on. But when you wind up in front of a television ó the flickering tube you used to warn against and loathe ó eating tuna from a can and drinking whiskey, it isnít always easy to tell the difference.
John Berbrich: Sounds like an awful way to go. Blecch. I like tuna, & I like whiskey (sometimes), but together. And TV alone will kill you. A sad end.
William Michaelian: Yeah, like why not a bowl of chili, at least? You could almost make a case for whiskey and chili. Say with a few crackers on the side. Which reminds me ó early this morning, long before it was light, I was struck through suddenly by the thought of how lonely a box of crackers could seem, especially when considered alongside lifeís vicissitudes.
John Berbrich: Willie, donít. Iím feeling existential enough without bringing up crackers. Hold on ó do you mean the box of crackers seems lonely, or that each individual cracker in the box seems lonely? I can see this as an Edward Hopper painting. A nearly deserted bar. The lights are low. One man drinks by himself at a table. Another man drinks alone at the bar. The bartender is wiping glasses w/ a white towel. At the far end of the bar, on top of the gleaming black counter, sits a lone box of crackers.
William Michaelian: When the image first popped into my head, the box of crackers seemed to create loneliness around it. But soon I saw the box itself as being lonely. And it was red for some reason. But then, like you, I started to wonder about the individual crackers, some of which might have known the freedom of being in a cheap glass bowl before being either rejected or ignored and dumped back into the box for the night ó a night that must feel like an eternity if youíre a cracker. I once wrote a little prose poem about being a pill on a beautiful spring day, when no one needs pills. ďSpring,Ē you mutter to yourself as you sit uncontemplated and unswallowed in the dark, inside a plastic bottle with other pills in various stages of psychosis. Life isnít easy ó Iíll tell you that much.
John Berbrich: That reminds me a lot of a little song I wrote years ago while working as a drudge in a convenience store. The song was about a little pink jar sitting on a little pink shelf. The jar suddenly becomes self-aware. In fact, those are the first two lines: ďIím a little pink jar on a little pink shelf / & Iíve just become aware of myself.Ē Great minds. But about the box of crackers, mine was yellow not red, so itís a completely different box.
William Michaelian: Yellow and red, sitting there alone, like bright, melancholy birds.
John Berbrich: Jungle birds. Yellow & red, one at either end of the bar. By the way, do you say ee-ther or eye-ther?
William Michaelian: God Iím glad you asked that. Youíd think we would have crossed that bridge before, but a careful examination of the records reveals that we have never catalogued that important bit of information. And the answer is ... is ... ee-ther, except in rare cases when I say eye-ther. And Iím not sure what those rare cases are. And you?
John Berbrich: Iím w/ you, ee-ther. And I say nee-ther. And po-tay-to. Which reminds me ó howís the Index coming? I say in-dex. I-am-bic. This is kinda fun.
William Michaelian: The Index, like many of the Great Ideas, is on hold. Mainly because I forgot all about it. I-am-bic, god of pens. Thank goodness we speak eye to eye on this subject.
John Berbrich: We speak, aye-aye. So anyway, thereís this yellow box of crackers at one end of the bar & this red box of crackers at the other end. The light is hazy, dim. Who walks in?
William Michaelian: I donít know. Marshal Dillon? Usually when thereís this kind of trouble in Dodge, he takes care of it.
John Berbrich: Okay, so Matt Dillon is at one end of the bar & the notorious villain Lee Marvin at the other in a dark heavy trenchcoat. Dillon is wearing shorts & a bright Hawaiian shirt. Anyway, thereís these two boxes of crackers on the bar. The two men face each other. The room clears. The jukebox starts up. Itís karaoke time.
William Michaelian: First, the yellow box gets up and sings ďMy Way.Ē Then, not to be outdone, the red box sings ďWhat Do You Get When You Fall in Love?Ē
John Berbrich: Lee Marvin cracks up laughing. Dillon buys them each a whiskey. Pretty soon the two heroes are singing like old school chums, crooning away at some moldy German drinking song. A gorgeous barmaid appears, & the atmosphere quickly changes.
William Michaelian: Wait ó do you mean Dillon buys the boxes of crackers each a whiskey? Kind of cruel, considering they donít have hands. Seeing the barmaid, Dillon and Marvin try to suck in their aging guts. No matter ó clearly, itís the crackers sheís interested in.
John Berbrich: Yeah, & itís the low-sodium yellow box sheís obviously attracted to. Trying to gain her attention, Dillon & Marvin begin a fistfight. But to no avail, Iím afraid. The camera zooms in for a close-up.
William Michaelian: ďI love your freckle,Ē the yellow box whispers as Marvin swings by on a chandelier.
John Berbrich: Marvin grimaces as heís thumped in the gut by Dillon. The yellow box of crackers is opened by the barmaid. The red box slumps, neglected.
William Michaelian: Until Marvin lands smack-dab on top of it and the two skid the rest of the way down the bar.
John Berbrich: The barmaid lifts the yellow box of crackers out of the way, just in time. Marvin sits up, groggy, & asks her for a cracker. She slaps his face.
William Michaelian: He responds with a grin. ďFinally,Ē he says, ďweíre getting somewhere.Ē But blood ainít tabasco, and with one wordless shove Marvin is back on the floor.
John Berbrich: Where Dillon socks him w/ a ripe pomegranate. Marvin staggers against the wall & slumps to the floor. ďAinít you gonna sing?Ē he says.
William Michaelian: ďNo, I think Iíll go home and do my laundry,Ē comes the reply. CUT! You know, if I had the time and energy, Iíd do what I always do in these situations ó start a new page. But I donít. Nope ó weíre gonna have to dig our way out of this mess the old fashioned way: read any good books lately?
John Berbrich: Hmmmm. Okay. Besides the Kerouac I recently mentioned, I just finished two early novels by Samuel R. Delany, The Ballad of Beta-2 & They Fly at Ciron. Also read a collection of essays by D.H. Lawrence entitled Sex, Literature, and Censorship & two marvelous poetry books, A Circus of Needs by Stephen Dunn & Love in the Time of Electrons by Ellaraine Lockie.
William Michaelian: Ah, yes ó nothing like a little variety. Dunn to calm you down, Lockie to stir you up.
John Berbrich: And Delany to s-t-r-e-t-c-h your imagination.
William Michaelian: Whoa, careful there. That thing could snap. Meanwhile, I just picked up a batch of books myself, at Goodwill. Letís see. Hereís a tiny little book about palm reading ó it actually fits in my palm ó an Everymanís Library volume of Whitman, Vonnegutís Slaughterhouse-Five, A Little Treasury of American Poetry edited by Oscar Williams, a nifty Peter Pauper Press volume of Chinese fairy tales, Death of a Salesman, and finally, a book about Irish myths and legends, by Lady Gregory. All I have to do now is read the darned things. Total investment: ten dollars and ninety-three cents. If gumball machines were still a penny, Iíd be in seventh heaven.
John Berbrich: Do you need to build another bookcase? I mean, for the gumballs.
William Michaelian: No, I store those in fifty-gallon drums under the house. But another bookcase would be nice if I had a place to put it.
John Berbrich: Maybe on top of the house. Youíll need to build an extra story, of course. Get it, extra story?
William Michaelian: Well, you know what happened when I tried to build a new poetic form. Iím still trying to clean up that mess. Oops ó I almost forgot. Thereís another book I got recently, at the little bookstore in the public library. Itís called California Classics, and itís by Lawrence Clark Powell. He writes about books by John Muir, John Steinbeck, Mark Twain, Aldous Huxley, Raymond Chandler, and many others who wrote about and are otherwise identified with the Golden State. Pretty interesting. And thereís a great old photograph in it of Robert Louis Stevenson, one Iíve never seen, with a whimsical gleam in his eyes.
John Berbrich: He must have been a real character, that Stevenson, from what Iíve read ó always the romantic, seeking adventure over the hill, across the sea, around the next corner. Endlessly spinning his tales to all who would listen. Sounds like a fascinating book.
William Michaelian: It is. Hereís a snippet from the inside flap: ďIn combining biography and criticism the author has gone to the original sources of each work, seeking the forces that created it ó a love of landscape or a woman, a social cause, or a sense of local history, finding no two alike. What results is a literary chronicle of California, seen against a background of seacoast, valleys, mountains, deserts, and cities.Ē Iíve just scanned in the cover, and Iíll include it with a list of the authors and titles Powell writes about in my next blog entry. The Stevenson photo is a little hard to get at, but I might give that a try too.
John Berbrich: Sounds good. Did you ever read Kiplingís impression of San Francisco? He just got off the boat, marveling at the crowds, when someone stabbed a Chinaman in the eye. Kipling thought that all of America was mad, but he liked the looks of the women.
William Michaelian: Interesting. According to Powell, Stevenson came to California because of a woman. Hereís his opening paragraph on Stevensonís The Silverado Squatters:

What brought people to California in the 19th century? Furs and hides, gold, land, sunshine and health. It was none of these classic lures that attracted Robert Louis Stevenson from Europe. Something even more magnetic brought the 29-year-old Scot to California in 1879. A woman. Stevenson had met her three years earlier in France. Her name was Fanny Van de Grift Osbourne. She was then 39, a native of Indiana, married for nineteen years and the mother of two children; disillusioned and separated from her philandering husband who had remained in California.

But I havenít read the chapter yet. Meanwhile, hereís the blog entry.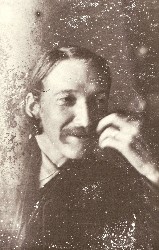 John Berbrich: I believe Iíve read this piece by Stevenson years ago. It begins w/ him disembarking from a boat in New York. Heís walking around lower Manhattan in the rain. Later on, as heís crossing the country by train, he marvels at the lovely names of the American States ó Carolina, Mississippi, Indiana ó each one like a little poem or song. I consider this when addressing an envelope. I always write out the name of the State, rather than use the postal abbreviation. The name of a State is more than a mere bit of information ó itís history, itís hills & rivers & cities, itís lives of millions of people stretching into the dim past & striding forth into the hazy future. Stevenson was a true poet, although his main form was prose.
William Michaelian: Which shows, I think, in this picture of him. Be sure to click on it so you can see it at full size. It isnít a perfect scan by any means, and the photo itself is obviously old, but his expression is priceless. And look at that hand. At the end of the chapter, it says the photo is courtesy of Robert A. Weinstein. I tried to find more information online, but didnít come up with anything. Couldnít even find the photo.
John Berbrich: Beguiled by some private amusement, do you think? I canít get over the fact that they took photographs in the 19th century. Way back, too ó before the Civil War. That seems like pretty advanced technology to me. Yes, the photographer captured something in that shot of Stevenson.
William Michaelian: I love it. I really do. If there were only this one image of him, I think it would be enough. And youíre so right about his poetic tendencies. The samples of his writing in this chapter really bear that out. His descriptions of the ocean fog rising to mingle with the scent of pines is but one good example. I also like this later description of his wife, which youíve probably already read somewhere:

She runs the show. Infinitely little, extraordinary wig of grey curls, handsome waxen face like Napoleonís, insane black eyes, boyís hands, tiny bare feet, a cigarette, wild blue native dress, usually spotted with garden mould. Hellish energy: relieved by fortnights of entire hibernation. Can make anything from a house to a row of houses. Doctors everybody, will doctor you, cannot be doctored herself. A violent friend, a brimstone enemy. Is always either loathed or slavishly adored ó indifference impossible. Dreams and sees visions.Ē

John Berbrich: Wow. I donít believe Iíve ever read that description, I would have remembered it. In a half-dozen lines heís painted w/ words an unforgettable portrait. She sounds frightening. She sounds like a natural force, like sunshine or a tropical storm. He presents her as tiny & huge simultaneously, quite a trick. Small wonder that he couldnít keep away from her.
William Michaelian: We can only hope that they stop by someday at the Antique and Junk Poem Shop. Sounds like the missus can keep any number of recalcitrant poets in line, dead or alive. Anyway, Iíve read the whole chapter now. At one point, in San Francisco, it was necessary for Stevenson to support Fanny, her soon-to-be ex-husband, and their son. An interesting arrangement.
John Berbrich: Yeah, & I think he wrote at least one of his novels as a collaborative effort w/ the stepson. I donít know how much each wrote, but I do recall seeing two names on the title page. Rather generous, Iíd say.
William Michaelian: Maybe so. Apparently thereís a memoir by the stepson, Lloyd Osbourne, called An Intimate Portrait of R.L.S. Powell offers a short sample:

He was never willing to coddle himself. He would say, ďO, hell, what does it matter? Let me die with my boots on.Ē It has always been a satisfaction to me that he did. Unlacing them as he lay dead, that reiterated remark of his came back to me very poignantly. Intrepid to the end, he had had his wish, which was symbolic of so much more.

Anyway. I do like Powellís conversational approach. The book is another lucky find, a nice hardcover in good condition, and it set me back only two dollars. Quite a bargain.
John Berbrich: Lucky, indeed. And Stevensonís birthday is coming up, November 13th. Mineís the 14th. Iíve always wished that I had been born a bit sooner or that he had waited one more day. Then we could celebrate together. Hey, itís snowing this morning, November 6th. First time this season.
William Michaelian: And itís raining here to beat the band. But theyíre playing anyway, those rascals. Hmm. I just thought of something. Unless Iím mistaken, trumpets never get out of tune. And yet, a man and his trumpet are soon parted. No, thatís not it. Let not your trumpets be troubled. Nope. Thatís not it either. Oh, well. Happy birthday, in case Iím dead by then. To both of you. And to a bright future.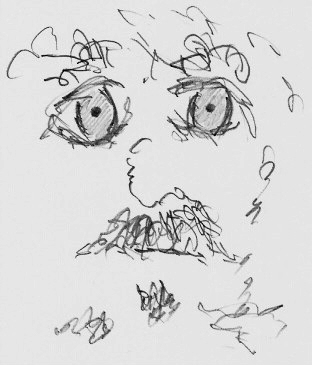 Main Page
Join Conversation
Join Conversation
Join Conversation
Join Conversation
Join Conversation
Join Conversation
Join Conversation
Join Conversation
Join Conversation
Join Conversation
Join Conversation
Join Conversation
Join Conversation
Join Conversation
Join Conversation
Join Conversation
Join Conversation
Join Conversation
Join Conversation
Join Conversation
Join Conversation
Join Conversation
Join Conversation
Join Conversation
Join Conversation
Join Conversation
Join Conversation
Join Conversation
Join Conversation
Join Conversation
Join Conversation
Join Conversation
Join Conversation
Join Conversation
Join Conversation
Join Conversation
Join Conversation