For the longest time, I've been planning to make pickles based on a recipe my brother's wife uses in Armenia. Finally, I have everything together, and will make the pickles either today or tomorrow in the nifty two-quart crock I bought the other day at Goodwill for two dollars and ninety-nine cents. But I don't want to give the recipe just yet. I will wait instead to see how the pickles turn out. If I do it right, then I will give the recipe the glorious presentation it deserves. If I do it wrong, or find I need to make some adjustments, I will try again and then give the recipe.

In the meantime, I had a great idea for a sweet treat I know everyone will like, and that is an okra milkshake. Well, not really. My wife and I had to pick up a few things at the store earlier this afternoon, and for some odd reason the words "okra milkshake" popped into my head while we were waiting for a light. This sort of thing happens to me quite often. For instance, that's where my idea for tomato ice cream came from, as well as for a peanut butter and lasagna sandwich.

Here are a few other ideas, some of which almost sound legitimate, while others are merely repulsive:

Baked lemons
Spicy oven-fried turnips
Trout cookies
Pickle-and-olive soup
Monkey batter
Freckled mustard spread
Swine wine
Angel food cake with spaghetti sauce topping
Stuffed baseball bats
Pickled earrings
Raisin, clove, and cigarette salad
Buttered mint biscuits with tea oil
Spinach and molasses
Broccoli-and-onion omelette
Apple-and-bacon enchiladas
Mixed fruit casserole
Starched octopus
Lizard legs
Squid in a blanket
Cranberry noodle orange soufflé
Rice pilaf with parsley and splintered pistachio shells
Multi-grain eggnog
Steak-and-nail sandwich
Chocolate-coated radishettes
Atkins-hostile carb-dipped doughnut doubles

Oh, well. Anyway. Something tells me I'd better get to work on those pickles.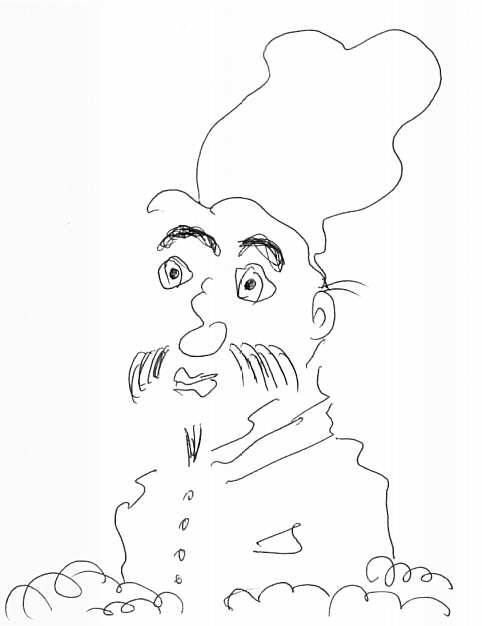 ---
Also by William Michaelian

POETRY
Winter Poems
ISBN: 978-0-9796599-0-4
52 pages. Paper.
——————————
Another Song I Know
ISBN: 978-0-9796599-1-1
80 pages. Paper.
——————————
Cosmopsis Books
San Francisco

Signed copies available


---
Main Page
Author's Note
Background
Notebook
A Listening Thing
Among the Living
No Time to Cut My Hair
One Hand Clapping
Songs and Letters
Collected Poems
Early Short Stories
Armenian Translations
Cosmopsis Print Editions
Interviews
News and Reviews
Highly Recommended
Favorite Books & Authors
Useless Information
Conversation
Flippantly Answered Questions
E-mail & Parting Thoughts