Welcome to williammichaelian.com. The purpose of this page is to make it easy for new visitors to find out what this website is about and to invite further reading and exploration. Visitors who aren't new, but who haven't checked in for a while, should also find this page useful. A brief description of each department is included with its link below, as well as information on how often it is updated. Thank you for visiting.


---
Note: The following Flippantly Answered Questions are graciously provided for visitors who are too impatient or busy to read through the link descriptions.

FLIPPANTLY ANSWERED QUESTIONS
Q: Who are you, anyway?
A: William Michaelian.
Q: Should that mean something to me?
A: Probably not, but I wish it did.
Q: What is this website for?
A: It is supposed to promote my writing, but I haven't noticed any big checks in the mail lately.
Q: Are you usually this cheerful?
A: No. Definitely not. Basically, I'm a grouch.
Q: Oh. Okay. Well, then. What kind of writing do you do, exactly?
A: Try clicking on some of the links. You'll find out soon enough.
Q: Boy, you really are a grouch. Okay. I clicked on a link. Now what?
A: Click on another one. Click on all of them.
Q: But there's tons of stuff here. How am I supposed to get through it all?
A: Do whatever it takes. Quit your job if you have to. You've wanted to for a long time anyway.
Q: True. But I don't think my wife will appreciate it. Any other suggestions?
A: Certainly. Tell your wife to click on the links as well.
Q: And quit her job?
A: Of course. That goes without saying.
Q: What advice would you give people who aren't married?
A: I would tell them to get married, and then quit their jobs and click on the links.
Q: You seem familiar somehow. Are you sure we haven't met?
A: No, I'm sure we have, but that we just don't remember.
Q: That almost sounds poetic. Do you write poetry, by any chance?
A: I write everything by chance.
Q: Even novels and stories?
A: Novels and stories especially.
Q: You sound as if you really mean it.
A: Sorry about that. But I do. I really do mean it.
Q: Okay, I confess, I'm very interested in you and your website. Any hints or special instructions?
A: Yes, click on —
Q: Wait a minute. I know. Click on the links, right?
A: Right. You're quick, my friend. Very quick.


---
Main Page
The website's home page. Contains author photo, short biographical note, links to the other main departments, date of most recent site revision, writing, drawing, and photo credits, and copyright information. Also contains links to literary forum, monthly poetry selection, and Recently Banned Literature, the site's update blog. Updated daily.

Author's Note
Welcome and introduction to the website. Still in its original form, and as much about my grandmother as me.

Background
Where I was born, how and why I became a writer, and the dubious significance of my presence here on earth. Unchanged since the site was launched in 2001.

Notebook
Short musings, observations, columns, stories, poems, meanderings, and odds and ends that tend to make a point, often at my own expense. Sometimes humorous, sometimes not. Updated approximately once a month. At the bottom of the Notebook page is a link to the archive page, called Old Notes. The archive page contains titled links to all past entries, with the most recent entry at the top.

A Listening Thing
Title page of my novel, which was almost, but not quite, published in book form in 2003, due to the evil machinations of a crooked publisher. Contains cover art, copyright information, dedication, preface to the first complete online edition, "jacket copy," short reviews, chapter links, and a link to a page containing reader comments. Updates as needed.

Among the Living
Introduces my first short story chapbook, Among the Living and Other Stories, published in 2000. Contains more writing background, review excerpts, ordering link to Powell's Books, and direct mail ordering information. Updates as needed.

No Time to Cut My Hair
Title page of my insane and ultimately successful ninety-day online story-writing project, undertaken in 2002. Contains dedication, copyright information, link to explanatory preface, numbered and titled links to all seventy stories with word count, and some interesting and amusing project statistics.

One Hand Clapping
Daily journal begun March 17, 2003, and completed March 15, 2005. Contains timely social and political commentary interwoven with personal observations and revelations harvested from daily life. Divided by month. Each page contains dated links to all other journal pages.

Songs and Letters
An "uncharted book of poetry and prose" presented in unplanned installments as they were written. Begun March 18, 2005, completed July 24, 2009. Title page includes links to each entry.

Collected Poems
Title page for a collection of poems to which I added at the rate of one poem per month for about six years. Links to all poems (and one short essay) are also provided on each poetry page, along with a short introduction. Links to Poems, Slightly Used, a collection begun in 2008 that contains work first published in my blog, Recently Banned Literature, are also included.

Early Short Stories
Title page for a collection of twenty-two of my favorite published and unpublished short stories from 1996, 1997, and 1998. Story links are accompanied by brief background and commentary.

Armenian Translations
Introduces my first collection of Armenian translations, Hin Lezun (The Old Language). Contains cover art, short story title page, background, and ordering link to an extensive marketplace that features Armenian books, music, and gifts. Updates as needed.

Cosmopsis Print Editions
Introduces my two poetry collections, Winter Poems and Another Song I Know, published in paperback by Cosmopsis Books in San Francisco. Contains cover art, short professional reviews, and ordering links. Updates as needed.

Interviews
Complete reprint of my 2001 Barbaric Yawp interview conducted by the magazine's publisher and editor, John Berbrich, along with a link to a second reprint in the August 2007 issue of Healing Matrix. Also contains a link to a new, more extensive interview in the Fall 2007 issue of Cosmopsis Quarterly, available on the publisher's website.

News and Reviews
Personal writing and publishing updates, news of website changes and additions, short reviews of a few things I've read, and other tidbits that are extremely fascinating and entertaining. Updates as needed, with the most recent entry at the top.

Highly Recommended
Short reviews and recommendations of literary websites and publications I have found enjoyable and worthwhile. Contains separate lists of links and publication names, addresses, and subscription information. Updated whenever I come across something new, with the most recent entry at the top.

Let's Eat
Also known as "A Writer's Guide to Cooking." Features food-related columns and stories, along with family recipes and concoctions. Written when the mood strikes, usually about a month apart or a little longer. At the bottom of the Let's Eat page is a link to the archive page, called Old Eats. The archive page contains titled links to all past entries, with the most recent entry at the top.

Favorite Books & Authors
Summaries and non-critical reviews of some of my favorite books and authors, meant to encourage wider reading. Related excerpts are on the right side of the page. Links to individual books and authors are located near the top of the page, as well as links to my son's frequently updated "Webmaster's Reading List" and new supplements called
And I Quote, which contains excerpts from a random selection of books and authors along with my notes and observations, You Don't Say, a list of old-fashioned words and literary references, and Robert Burns: A Glossary of Scottish Terms. Updated in irregular outbursts.

Useless Information
Brilliantly humorous tidbits, jokes, readings, and observations guaranteed to brighten, if not enlighten, your existence. I add to the top of this page whenever I'm not too busy moping or complaining about how rotten everything is.

Conversation
Complete reprint of the reciprocal Barbaric Yawp interview I conducted with publisher and editor, John Berbrich, in 2002. Contains a link to our continued online conversation and literary forum page, to which we have been adding ever since, with the sincere hope that others will enjoy our blabbing and want to participate.

E-mail & Parting Thoughts
Comforting words for visitors who have survived the ordeal, and an invitation for them to drop me a line. Contains e-mail link, but no prizes, incentives, or discounts.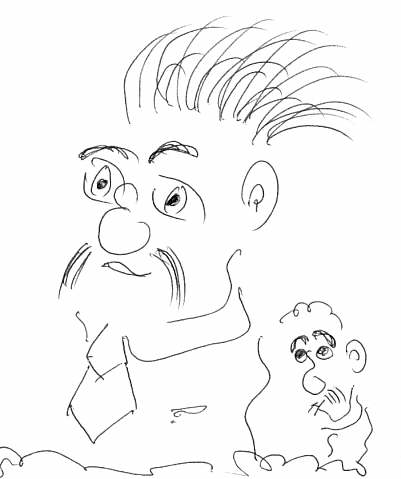 ---
Also by William Michaelian

POETRY
Winter Poems
ISBN: 978-0-9796599-0-4
52 pages. Paper.
——————————
Another Song I Know
ISBN: 978-0-9796599-1-1
80 pages. Paper.
——————————
Cosmopsis Books
San Francisco

Signed copies available


---
Main Page
Author's Note
Background
Notebook
A Listening Thing
Among the Living
No Time to Cut My Hair
One Hand Clapping
Songs and Letters
Collected Poems
Early Short Stories
Armenian Translations
Cosmopsis Print Editions
Interviews
News and Reviews
Highly Recommended
Let's Eat
Favorite Books & Authors
Useless Information
Conversation
E-mail & Parting Thoughts