I have a terrible confession to make: we never had lamb chops smothered in garlic when I was growing up. We ate them barbecued or broiled, with plenty of salt and pepper, but never with garlic. Years later, when I was married and my wife and I had a family of our own, her mother took us to the Basque Hotel on F Street in Fresno. For the main course, we were given a huge platter of juicy lamb chops loaded with garlic. They were fantastic.

These days, at least here in Salem, we rarely find lamb chops worth buying. They look horrible and are mostly gristle. It's possible to find good loin chops, but they run ten or eleven dollars a pound — a price I am unable and unwilling to pay, especially since they are small and so many are needed. And so we occasionally buy a leg when they're on sale, and either roast it or have it cut up for stew.

For a lamb roast (we prefer the bone in for added flavor), we have always used garlic. Before cooking, simply poke holes in the meat and push in a third or so of a clove of garlic. With the usual coating of salt and pepper, and small red potatoes roasted along with the lamb, the result is heavenly. And here's something many people don't know: a beautiful, rich bulghur pilaf can be made with the lamb broth. Use the same approach as rice: two cups of liquid for each cup of grain. Lamb broth is potent — fifty percent broth and fifty percent water will work just fine. First brown a little vermicelli in butter on low heat, then dump in your bulghur (medium-sized or coarse) and mix the two together. Heat your broth mixture to boiling, then pour it over the vermicelli and grain. Add a little salt. Until you get used to the amount, you can taste the broth with a spoon to be sure it's right. Simmer on a very low heat for twenty to twenty-five minutes. Wonderful.

Pork chops, on the other hand, are plentiful here. Our favorite is the center-cut chops. The fancy boneless cuts have less flavor, and are often tough. Preparation is simple: plenty of salt and pepper, some ground dry purple basil, and several flecks of finely chopped garlic. Halfway through, when the chops are turned, we give the same treatment to the other side. Whenever we serve pork this way, our guests are pleasantly surprised.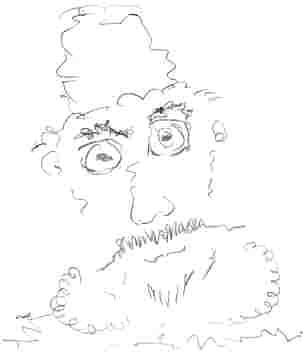 ---
Also by William Michaelian

POETRY
Winter Poems
ISBN: 978-0-9796599-0-4
52 pages. Paper.
——————————
Another Song I Know
ISBN: 978-0-9796599-1-1
80 pages. Paper.
——————————
Cosmopsis Books
San Francisco

Signed copies available


---
Main Page
Author's Note
Background
Notebook
A Listening Thing
Among the Living
No Time to Cut My Hair
One Hand Clapping
Songs and Letters
Collected Poems
Early Short Stories
Armenian Translations
Cosmopsis Print Editions
Interviews
News and Reviews
Highly Recommended
Favorite Books & Authors
Useless Information
Conversation
Flippantly Answered Questions
E-mail & Parting Thoughts