Our youngest son stays up all night reading great literature and playing his 1969 Guild six-string guitar. When he gets hungry, he often boils a big pile of noodles. When they're done, he adds melted butter, a chopped clove of garlic, and at least half a dozen herbs and spices — "the ones," as he puts it, "you guys never use." And he's right. I've never used coriander. Right off hand, I don't even remember what it looks or smells like. Onion powder, parsley flakes, minced onions, thyme, cloves — at one time or another he's used all of them, usually in combination with chili powder, cumin, oregano, or Italian seasoning. And I'm proud to say he's a very good sport about eating the results, which occasionally smell less than appetizing, especially at two or three in the morning.

As far as I can remember, other than as a tea, I've used thyme only once. It was years ago, when I insisted on bringing home some mustard greens from the grocery store. They were beautiful. I said to my wife, "We can cook these the same way we do spinach."

Our spinach recipe is simple: stem it, wash it, and steam it, then add it to the sliced onion we've been simmering and softening meanwhile in butter with some salt. Mix that up, put it in bowl, add some grated cheddar and/or jack cheese and a beaten egg — or is it two eggs? — pour the mixture into a pie plate and bake in the oven at 350 degrees for twenty minutes or however long it takes for the mess to come together, but before it gets too dry. What's this called? Quiche? Soufflé? I don't remember. I think it's quiche. I know it's not crépes, because I think those are thin little French pancakes. Anyway, it takes two bunches of spinach and about half an onion, depending on your mood. Use plenty of cheese.

When I started working on the mustard, however, I realized right away by the smell that a slightly different approach would be needed. So I started fishing around in the cupboard and unscrewing the lids of the herb and spice containers and sniffing their contents. Ah-ha, I thought at one point — thyme! That's the answer. And, oddly enough, it was. When I added thyme to the frying pan full of mustard, butter, and onion, everything came together. I wish I could remember how much I used.

After the mustard greens were ready, I brought them to the table and gave each person in the family a generous serving. If I remember correctly, our oldest son said, "You know, this almost tastes good." I thought it was great — odd, but great. It wasn't a dish one could serve to company, but even that didn't diminish its greatness.

A few weeks later, when I offered to make mustard greens again, with the possibility of one or two refinements (wishful thinking), I received no encouragement at all. Crushed, I never made them again. And now I'm haunted by them — in the same way I'm haunted by turnip greens, which I also tried with lamb, but only once. Beet leaves, though — that's a different story.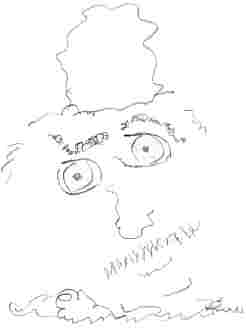 ---
Also by William Michaelian

POETRY
Winter Poems
ISBN: 978-0-9796599-0-4
52 pages. Paper.
——————————
Another Song I Know
ISBN: 978-0-9796599-1-1
80 pages. Paper.
——————————
Cosmopsis Books
San Francisco

Signed copies available


---
Main Page
Author's Note
Background
Notebook
A Listening Thing
Among the Living
No Time to Cut My Hair
One Hand Clapping
Songs and Letters
Collected Poems
Early Short Stories
Armenian Translations
Cosmopsis Print Editions
Interviews
News and Reviews
Highly Recommended
Favorite Books & Authors
Useless Information
Conversation
Flippantly Answered Questions
E-mail & Parting Thoughts