On his lunch breaks lately, our son has been trying a few of the Mexican restaurants in town. His report: the food is decent but generic, and tastes as if it were made to offend the least amount of people. This, of course, is offensive in another way. Mexican food should be Mexican food, not American food with Mexican overtones. Granted, these places are in business to make money, and shocking customers' taste buds with the real thing could kill them, paralyze them, or chase them away. This leaves us with three choices: learn to make our own Mexican dishes, seek out the elusive small town hole-in-the-wall, or pull off the road whenever we see a lunch wagon with a menu painted in Spanish on its side. A fourth less practical but tempting choice would be to move to Mexico. But even then, one would have to travel the country from one end to the other in order to partake in the full culinary variety that land has to offer — and the mystery, rhythm, and tradition of its preparation.

Wow — I must be hungry.

At any rate, I'm reminded here of a certain hole-in-the-wall my brother and I visited several times many years ago in Kingsburg, California, a small farming town south of Fresno. I don't remember the name, but it started with a Q, and it was run by a woman and her husband — unless the place ran itself, and they went to work there every day because it felt like the only logical thing to do. The woman cooked and the man served. The kitchen, which was really just a blackened cave, was visible over a grimy ledge in back. The woman was in charge. She was hot, sweaty, and angry, and the upper part of her back was rounded into a hump. Her apron had a life and personality all its own. The man smiled, limped, and opened beer bottles. He was also the busboy and cashier.

Lard — that's what I was coming to. Just the other day, we received an oversized fancy postcard in the mail inviting us and the rest of the world to a new Mexican restaurant. Near the bottom of the card it said, We never use lard, only vegetable oil. And I said, "Imposters! How can they claim to serve Mexican food if they don't use lard? Why, years ago, there was a great little place in Kingsburg — maybe I've told you about it — and believe me, they used lard, and their food was some of the best I've ever blah blah blah blah blah . . ."

Not that we use lard ourselves, although I do ask my wife occasionally if we can bring home at least a small bucket.

The food in Kingsburg really was outstanding, and lard, without a doubt, contributed to its flavor. That cook knew what she was doing back there. And the dishes that were supposed to have a bite had a real bite — but not just a bite: they had a flavorful bite — an original zing that would kill the bugs in your system and ensure your vitality for years to come. I mean, just look at me. And all these decades later, I still feel every bit as good as I look.

On the postcard, there was a colorful picture of a plate of food, but I couldn't tell what it was. A stock photo from somewhere. It might have been lasagna. We certainly never saw anything like it in Kingsburg.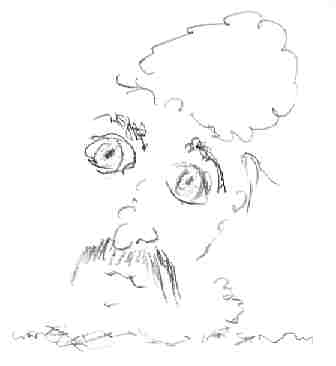 ---
Also by William Michaelian

POETRY
Winter Poems
ISBN: 978-0-9796599-0-4
52 pages. Paper.
——————————
Another Song I Know
ISBN: 978-0-9796599-1-1
80 pages. Paper.
——————————
Cosmopsis Books
San Francisco

Signed copies available


---
Main Page
Author's Note
Background
Notebook
A Listening Thing
Among the Living
No Time to Cut My Hair
One Hand Clapping
Songs and Letters
Collected Poems
Early Short Stories
Armenian Translations
Cosmopsis Print Editions
Interviews
News and Reviews
Highly Recommended
Favorite Books & Authors
Useless Information
Conversation
Flippantly Answered Questions
E-mail & Parting Thoughts