What a fantastic lunch! This entry is inspired by leftovers: bulghur pilaf, roasted yellow peppers and sliced cucumber with plenty of salt and some mildly tart homemade madzoon, all served together in one of the four heavy wide soup dishes my grandmother gave us many years
ago.

A couple of days ago, as part of our Sunday evening meal, the peppers were rubbed lightly with canola oil and broiled in the oven, a few minutes on each side. Yesterday, I had one of them cold in a sandwich. Today, I found two of them still hiding in the refrigerator.

The bulghur was also two days old. We started with some olive oil in the bottom of a medium-sized pan, in which we simmered a little tomato, bell pepper, and onion with salt, pepper, and a hint of cayenne. When the vegetables were soft (about twenty minutes), we stirred in two cups of coarse bulghur. Then we added a little over four cups of boiling liquid — water with a little tomato sauce added for color. About twenty-three minutes and seventeen seconds later, give or take, after cooking on a burner just warm enough to keep the mixture boiling, the pilaf was ready. We fluffed it with a fork, drained the water out of the lid, and let the pan sit for a few minutes while last-minute preparations were under way.

We also broiled pork chops the other day, but that's beside the point, because there were none left over for today's lunch. If there were, I would have cut one up into small pieces, mixed it with the bulghur, and warmed them together. Oh — and we put salt and pepper on the pork chops, plus a little finely chopped garlic and ground dry purple basil. Be sure to do the same for the other side when you turn them.

When the leftover bulghur was warm, I put it in the soup dish. Then I put a couple of scoops of madzoon on top. Then I laid the cucumber slices along the edge. Then I put the peppers beside them. Then I sprinkled them both with salt. Then I sat down at the table and ate while reading the comics. Then I turned on the TV and watched about five minutes of a bad old "Perry Mason" episode. Then I decided I had no business keeping such a wonderful lunch to myself, so I turned off the TV (it's ancient and the screen is entirely green anyway) and sat down here at my work table to write about it. And this is the result. Isn't life grand?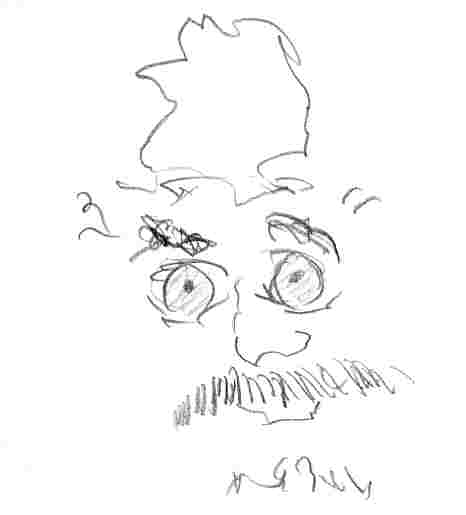 ---
Also by William Michaelian

POETRY
Winter Poems
ISBN: 978-0-9796599-0-4
52 pages. Paper.
——————————
Another Song I Know
ISBN: 978-0-9796599-1-1
80 pages. Paper.
——————————
Cosmopsis Books
San Francisco

Signed copies available


---
Main Page
Author's Note
Background
Notebook
A Listening Thing
Among the Living
No Time to Cut My Hair
One Hand Clapping
Songs and Letters
Collected Poems
Early Short Stories
Armenian Translations
Cosmopsis Print Editions
Interviews
News and Reviews
Highly Recommended
Favorite Books & Authors
Useless Information
Conversation
Flippantly Answered Questions
E-mail & Parting Thoughts