Summer is a great time in the kitchen, especially if you're able to grow your own vegetables. Living on the farm, this was never a problem. Later on, after our move to Salem, I went through a period of frustration, because the landlord of the house we were renting was big on lawns and shrubs of various kinds. Little by little, though, while he wasn't looking, I removed a bush here and there so I could plant tomatoes. When he didn't complain, I became brave and started digging out the lawn. A few years later, when the landlord went into the backyard to snoop around for some official reason, he was confronted with three rows of tomatoes five feet high, several clumps of zucchini, a row of peppers, cucumbers, and half a dozen eggplant, not to mention a parsley bed and a thick border of mint. By then his shrubs had all been removed, and at least a third of the lawn was missing. To his credit, he openly admired our efforts. In fact, his jealousy was obvious. For some mysterious reason, there are a lot of people in our area who are unsuccessful when it comes to growing vegetables. They either pinch back the growth, over-water the plants, over-fertilize them, or plant them too close together. Once, I talked to a guy who had kept his tomato plants in small clay pots and was surprised by their lack of growth. I don't know. I find this sort of thing disturbing. Common sense tells us that something growing in the ground is better off than something trapped in a pot. My advice, therefore, is this: If you have a lawn, dig it out. Bushes? Get rid of them. Plant a garden. Stop going to the store for your vegetables. Start a revolution. Take back your life, and pass the art of growing your own food on to your children. If you live in an apartment, drive out into the countryside, and, while no one is looking, steal as much fresh fruit and as many vegetables as you can. Life is short, remember. And while stealing most certainly is a crime, so is going through life without eating as nature intended.
---
Fried Eggplant Sandwiches

This is one of my summertime favorites. First, beat a couple of eggs until they're nice and foamy. Then, crush some saltine crackers with a rolling pin. Slice the eggplant about 3/8 of an inch thick. I prefer the long Japanese kind, but the big round kind is also good. Dip both sides in the egg, and then coat with cracker crumbs. Meanwhile, heat a generous amount of cooking oil in a large frying pan. When the oil is good and hot, put the slices in and fry each side until brown. The trick here is, don't fry the eggplant too slowly, or it will absorb too much oil. When a fork goes through easily, the eggplant is done. Drain on a paper towel and cover to keep warm.

Now for the other stuff. Sliced tomatoes. Sliced red onions (or any other sweet variety). Roasted bell peppers, or sweet yellow peppers, or long green Italian peppers, or Anaheim chili peppers. You can roast peppers on a barbecue, or broil them on a sheet in the oven. Either way works. Salt. If you have some cheese, slice some and add it to the sandwich. A little parsley (the flat-leaf kind) is also nice. Bread. Basic sliced bread is okay, Armenian flat bread (lavash) is great, pocket bread is good. Even a flour tortilla will work.

And that's it. As we say at our house, "Simple food for simple people." We say a lot of other things, too, but none of them really apply here, so I'll leave them out.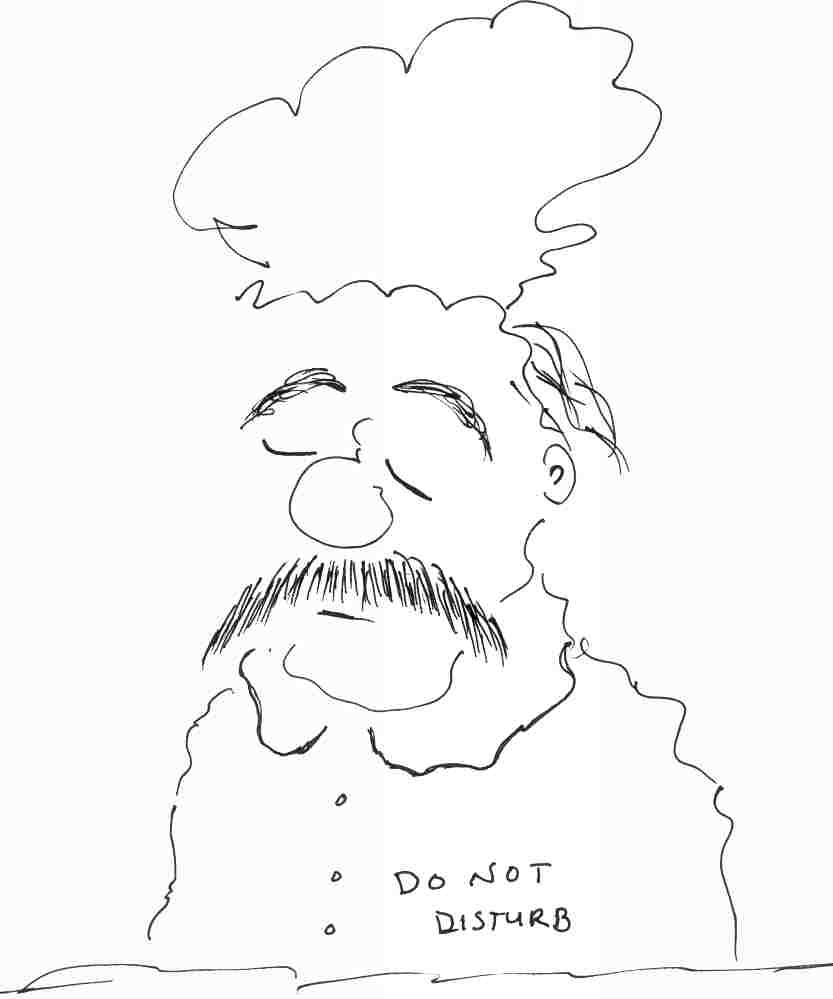 ---
Also by William Michaelian

POETRY
Winter Poems
ISBN: 978-0-9796599-0-4
52 pages. Paper.
——————————
Another Song I Know
ISBN: 978-0-9796599-1-1
80 pages. Paper.
——————————
Cosmopsis Books
San Francisco

Signed copies available


---
Main Page
Author's Note
Background
Notebook
A Listening Thing
Among the Living
No Time to Cut My Hair
One Hand Clapping
Songs and Letters
Collected Poems
Early Short Stories
Armenian Translations
Cosmopsis Print Editions
Interviews
News and Reviews
Highly Recommended
Favorite Books & Authors
Useless Information
Conversation
Flippantly Answered Questions
E-mail & Parting Thoughts