This past weekend, we had two rounds of visitors. First, my father's cousin and his wife stopped by, then two of my wife's brothers. In between, I wrote a story and added it to my strange collection here on the site. During the second visit, early in the morning while everyone slumbered, I started a new story, only to ditch the effort in the evening after everyone had gone. We had enjoyed ourselves so much and covered so much ground conversation-wise that what I had written no longer seemed pertinent. The words had lost their meaning, I had lost interest, and I had also forgotten what it was that had made me put them down in the first place.
I was also dead-tired. So, instead of starting yet another story, I took on something a little easier: I watched baseball on TV. I like baseball. When I was a kid, I used to play it all the time. I was even a pretty good pitcher. Once, in little league, I struck out fifteen batters in six innings. On a regular basis, I managed eight, ten, or twelve strike-outs. But there was one game I didn't strike anybody out. I'll never forget it, because I got sick in the second inning and almost died of heat exhaustion. It was early evening, and the temperature was still about a hundred degrees. I was on the mound contemplating my next pitch when I noticed my arms were glistening with sweat and I wasn't feeling well. When the coach saw I was in a daze, he trotted onto the field, as did my parents, who were watching from the seats behind home plate. The three of them helped me off the field, and — here I'll skip a few details. Let's just say I was mighty sick. But I did survive, only to find out we'd lost the game nine to nothing.
After a typically quick and youthful recovery, I pitched again, and found I still had my "stuff." A couple of years later, my pitching career ended when I stopped growing and everyone else didn't. But I did hang on for awhile by taking a more "cerebral" approach, which meant teasing batters with junk pitches. That was fun. I remember facing one particularly obnoxious pull hitter who thought he had my number. The first pitch I threw him was an inside fast ball that he yanked foul down the left field line. The second pitch, another fast ball, went over the left field fence, but again it was foul. Down with no balls and two strikes, the batter grinned at me as I pretended to look for a sign from the catcher. After taking plenty of time, I went into my wind-up. But instead of throwing a third fast ball, I unleashed a forty-mile-an-hour knuckle ball that bounced two feet in front of the plate. The batter swung at it so hard, he spun himself into the dirt. Strike three. In frustration, he threw his bat and almost hit his third base coach.
Let's see, now. Where was I? Oh, yes. I was tired, so I watched baseball. After the game I was still tired, so I went to bed. After tossing and turning for several hours, I got up, made coffee, and wrote another story, which turned out to be the fiftieth I'd written in sixty-eight days. And the crowd went wild.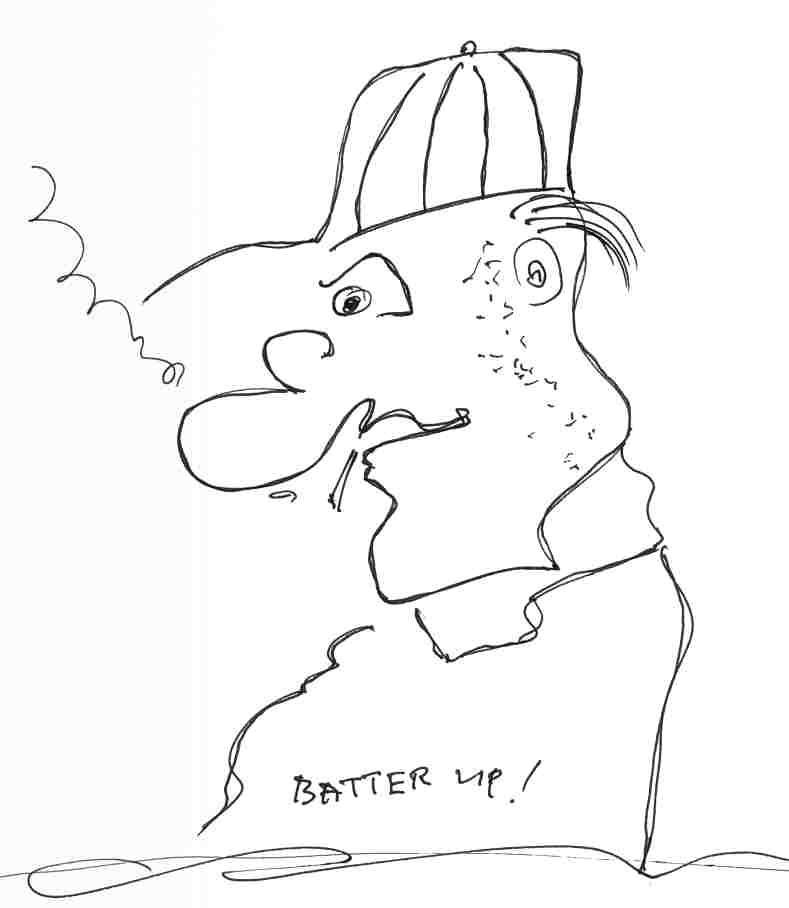 ---
Also by William Michaelian

POETRY
Winter Poems
ISBN: 978-0-9796599-0-4
52 pages. Paper.
——————————
Another Song I Know
ISBN: 978-0-9796599-1-1
80 pages. Paper.
——————————
Cosmopsis Books
San Francisco

Signed copies available


---
Main Page
Author's Note
Background
A Listening Thing
Among the Living
No Time to Cut My Hair
One Hand Clapping
Songs and Letters
Collected Poems
Early Short Stories
Armenian Translations
Cosmopsis Print Editions
Interviews
News and Reviews
Highly Recommended
Let's Eat
Favorite Books & Authors
Useless Information
Conversation
Flippantly Answered Questions
E-mail & Parting Thoughts