I've been thinking about how the row of books on the far side of my work table looks like tall buildings in a city. From left to right the imposing edifices are: The Reader's Encyclopedia; Gentleman, Scholars, and Scoundrels; A World of Great Stories; The Web and the Rock; Dry Guillotine; A Creed for the Third Millennium; The Sound of One Hand Clapping; My Brother Jack; Don Juan; The Rime of the Ancient Mariner & The Vision of Sir Launfal; 48 Saroyan Stories; Selected Poems of Robert Burns; The Oil Jar and Other Stories; The Naked and the Dead; and Collected Poems of Edna St. Vincent Millay.

The edge of the table is the horizon. The dusty area in the foreground is an open plain, a fertile field. The dim area in the corner beyond is where the sun has recently set — or is about to rise: I haven't quite decided. The spider webs are drifting clouds. The dead flies are — wait: there are no dead flies. Too bad. And I don't know why, but the pale curtain descending represents the dawning of a new age.

Why are there no mountains? Maybe they've been washed into the sea. The sea is my imagining. I see a man walking behind a heavy cart with wooden wheels. The cart is pulled by Leo Tolstoy, white-bearded, old, strong. Tolstoy has four legs and powerful horns. Honk! Out of the way! I see Walt Whitman.

Walt is on his way to visit the president — the real president: Abraham Lincoln. But he arrives to find him dead. O Captain! My Captain!

Horses, plows, villages, wells, barns: men and women tending ancient fires: children speaking the language of rocks and trees: layer upon layer, stone upon stone, wise rivers telling secrets to the soil.

The looming buildings are full of books: they are all libraries: the commercial age is dead. Long live insanity, the bird is on the wing.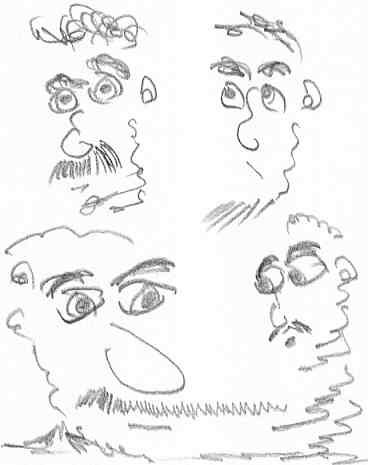 ---
Also by William Michaelian

POETRY
Winter Poems
ISBN: 978-0-9796599-0-4
52 pages. Paper.
——————————
Another Song I Know
ISBN: 978-0-9796599-1-1
80 pages. Paper.
——————————
Cosmopsis Books
San Francisco

Signed copies available


---
Main Page
Author's Note
Background
A Listening Thing
Among the Living
No Time to Cut My Hair
One Hand Clapping
Songs and Letters
Collected Poems
Early Short Stories
Armenian Translations
Cosmopsis Print Editions
Interviews
News and Reviews
Highly Recommended
Let's Eat
Favorite Books & Authors
Useless Information
Conversation
Flippantly Answered Questions
E-mail & Parting Thoughts