I live a strange life, and it only gets stranger. As proof, consider my decision to go ahead and read Finnegans Wake. That I'm eager to do so and find it necessary says a lot about my current state of mind. That I plan to take my time and savor each and every word as if I were Lazarus returned to life strongly suggests my condition is permanent. That I find this comforting, and am pleased to mention it in public, shows what can happen to a person when he finally — but enough is enough.

I will begin reading Joyce's final, mind-boggling work on the first day of 2006. All I have to do is buy the book. Though I've been talking about Finnegans Wake for the last several weeks, no one in the family took the hint and gave it to me for Christmas. I don't know. Maybe it was because I was raving about the 1939 UK first edition I found online for $4,500. Or maybe it was the raving itself.

Even Santa fell down on the job. Outside, I heard a strange clatter. When I threw back the sash, I could see the old galoot had plowed into a snowbank. He was obviously dead drunk, and his elves were jumping up and down on his padded elbows, giggling as they made him belch. It was a sorry sight, but all I really cared about was Finnegans Wake. Did Santa have a copy in his bag of gifts, or didn't he? At the moment, he didn't look terribly literate, but I imagine James Joyce himself had his stout-induced compromising moments.

I waited. By and by, Santa collected himself. He got to his feet and promptly began kicking his elves and cursing a blue streak. His reindeer shifted and shuddered. But instead of climbing back into his sleigh and flying up to our rooftop, Santa gave his jalopy a bitter shove and staggered off down the street.

That night, I did what any good father would have done. I delivered the presents myself — after going through the entire pile in a fruitless search for Finnegans Wake. Indeed, I saw many happy children that night, asleep in their grimy little beds. And I saw their exhausted parents, snoring with their mouths open. I put an orange in each. Citrus!
Vitamin C! Good old Santa — that's me!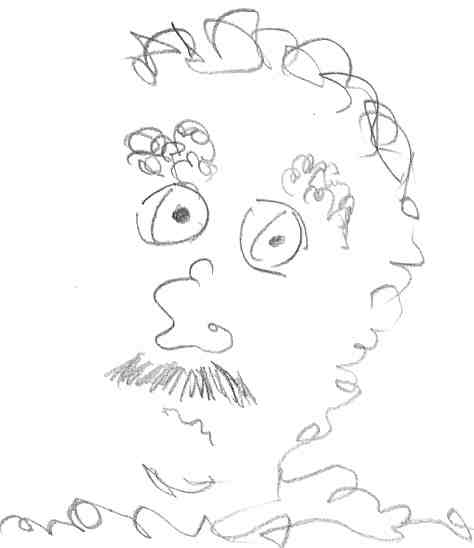 ---
Also by William Michaelian

POETRY
Winter Poems
ISBN: 978-0-9796599-0-4
52 pages. Paper.
——————————
Another Song I Know
ISBN: 978-0-9796599-1-1
80 pages. Paper.
——————————
Cosmopsis Books
San Francisco

Signed copies available


---
Main Page
Author's Note
Background
A Listening Thing
Among the Living
No Time to Cut My Hair
One Hand Clapping
Songs and Letters
Collected Poems
Early Short Stories
Armenian Translations
Cosmopsis Print Editions
Interviews
News and Reviews
Highly Recommended
Let's Eat
Favorite Books & Authors
Useless Information
Conversation
Flippantly Answered Questions
E-mail & Parting Thoughts