The weather has been hot lately — 102 humid degrees the day before yesterday, followed by a scorcher of 105. For all the world, the air outside this morning smells like a chicken coop — that delightful combination of dust, feathers, and excrement I remember so well from the chicken coops of my youth.

One of our farm neighbors had a few thousand hens and sold the eggs.
I remember the smell of the little egg room alongside his sandy dirt driveway, where his poor wife spent long hours candling eggs and chatting with wholesale customers, my mother and I included. Her face was shiny and she often had curlers in her hair, covered by a thin scarf. She was friendly and very nice, but also miserable, because her husband treated her like a slave. She hated chickens. She hated collecting the eggs. She hated the egg room, and the smell of the egg room, and the bucket on the floor that held cracked and broken eggs. She probably even hated the sight of the handle on the door of the walk-in refrigerator where the eggs were stored.

When I was sick and had to spend ten days in the hospital back in the first grade, she gave me a simplified illustrated version of Jack London's The Call of the Wild. She also gave me one of those little plastic square things that hold numbers, and that have one open space so you can move the numbers around and try to get them in order. I don't know. They probably have a name, like Number Puzzle, or something along those lines.

She died. Young. I think she had cancer. Her in-laws didn't approve of her. Imagine, a nice person like that stuck with thousands of chickens and a blockhead for a husband, and the in-laws don't approve of her. A few years later, the husband remarried — then, lo and behold, he got rid of his chickens, and focused on his Thompson vineyard instead. His new wife had a job in town. She was friendly enough, and so was he for that matter. In fact, as fate would have it, the time came when he rented the property adjacent to ours and I talked to him quite frequently. He was a nice guy, a hard worker, and very considerate.

Isn't it strange? In life, contradictions like this abound. Just when you're used to hating someone and you think he's a bum, he changes or shows another side of himself. Who knows. Now he's dead too. I wonder if his old egg room is still there, and the ancient walnut tree in front of his house by the road — the tree that was already old when my father was a kid.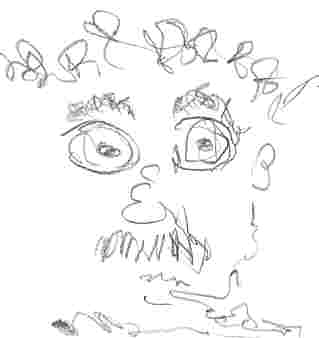 ---
Also by William Michaelian

POETRY
Winter Poems
ISBN: 978-0-9796599-0-4
52 pages. Paper.
——————————
Another Song I Know
ISBN: 978-0-9796599-1-1
80 pages. Paper.
——————————
Cosmopsis Books
San Francisco

Signed copies available


---
Main Page
Author's Note
Background
A Listening Thing
Among the Living
No Time to Cut My Hair
One Hand Clapping
Songs and Letters
Collected Poems
Early Short Stories
Armenian Translations
Cosmopsis Print Editions
Interviews
News and Reviews
Highly Recommended
Let's Eat
Favorite Books & Authors
Useless Information
Conversation
Flippantly Answered Questions
E-mail & Parting Thoughts